Enhancing Corporate Volunteerism to Strengthen Communities
We are excited to kick off our 10th anniversary celebration of Points of Light's Corporate Service Council, an elite platform for mobilizing, equipping and inspiring high-impact volunteering. Every week in the run-up to our Conference on Volunteering and Service in October, we will add a video to our YouTube channel or a post to this blog. We invite you to join in the celebration and read this post by Kerry Sullivan, president of Bank of America's Charitable Foundation and chair of the Corporate Service Council.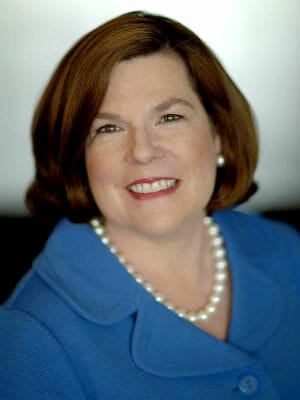 Kerry Sullivan
It's hard to believe that Points of Light is already celebrating its 25th anniversary and, with it, 25 years of mobilizing volunteerism across the globe.
That commitment to creating social action that brings change to communities has resonated with countless volunteers, nonprofits and companies. As the chair of Points of Light's Corporate Service Council, the organization's impact is something I've been delighted to be a part of.
For many years, volunteerism has been a key component of Bank of America's efforts to strengthen and support local communities. Our employees bring a huge passion for making a difference to the people and communities we serve, and are the ones who make it possible for us to deliver on our mission to make financial lives better.
This passion is something I've seen up close through our employee volunteer work, and from lines of business leaders, with 2 million volunteer hours recorded last year alone among Bank of America employees.
The Corporate Service Council has enabled us to grow our efforts and empower our employees to do more, especially in economically disadvantaged communities. In particular, the Council's regional meetings and expert hotlines have sparked new thinking on how to inspire our volunteers and work with our partners in a way that delivers lasting value.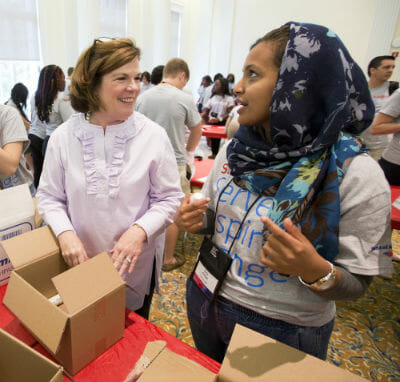 Kerry Sullivan, left, chair of the Corporate Service Council, volunteers at a service event at Points of Light's Conference on Volunteering and Service.
We've changed the dialogue with our nonprofit partners and have really looked to marry the passion of our employees with their needs. This has really enhanced the volunteer experience and the value to the community.
On a personal level, the executive networking and learning seminars have offered me a chance to work with corporate citizenship executives from dozens of the world's leading companies, sharing best practices and working with a wide network full of fresh ideas and experience.
To me, the most gratifying part of the Corporate Service Council is that the conversations are elevated beyond the nuts and bolts of employee volunteerism and really focus on the collective impact we can have in communities, whether engaged in financial coaching or mentoring, working at a food pantry, volunteering for park cleanups or helping with a home build. The results of our collective work are part of the solution.
The Council underscores the idea that pairing the right resources with the right people can have a substantial impact. Through this platform and other initiatives, Points of Light has helped make huge inroads over the past 25 years to encourage the very type of partnership and collaboration that makes a real difference to the challenges our communities face.
As the importance of corporate volunteerism continues to grow in the next 25 years, I'm excited to see what Points of Light will achieve.
The Points of Light Corporate Service Council is the premier global platform for advancing corporate volunteerism. Since its inception in 2005, the Council has convened an elite group of companies to leverage the power of corporate volunteerism to create change in communities. Council members include more than 75 of the world's largest and most successful companies. To learn more, click here or contact [email protected]. Many thanks to Edelman for pro bono support of the Council's 10-year anniversary campaign.
Share this post