Reclaim the Legacy of 9/11 Through Volunteer Service
Across the country on Sept. 11, millions of Americans will perform good deeds to help others and reclaim the legacy of what happened on that day 14 years ago.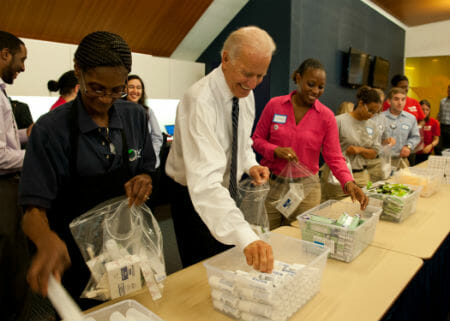 Vice President Joe Biden joins volunteers at George Washington University to assemble hygiene kits during 9/11 Day last year.
Will you join them?
You can find volunteer projects near you by visiting AllforGood.org and searching the term "9/11." Projects are happening on Sept. 11 and through the weekend.
"In powerful and heartfelt ways – through volunteer service – Americans are rekindling the spirit of unity that arose just after 9/11," says Delores Morton, president of programs at Points of Light. "Service draws us closer to each other as we honor the victims and heroes of that day."
If you're in the Washington, D.C., area, join us for our national 9/11 Day of Service and Remembrance event, from 8:30 to 11:30 a.m., on the grounds of the Washington Monument.
During that event, war veterans will tell their stories of service to public school students. Working with volunteers, the students will document the veterans' stories to create books that will be given as gifts to the children of military families – young people who often face particular struggles as a result of having parents deployed overseas. The handmade books will serve as reminders of the strength and resilience of the men and women in the armed forces.
Sept. 11 was designated a National Day of Service and Remembrance by the 2009 Kennedy Serve America Act. The Corporation for National and Community Service leads the annual event, working with MyGoodDeed and hundreds of nonprofit groups, faith-based organizations, and schools and businesses nationwide.
How are you serving on 9/11 Day? Share your story with us on Twitter or Facebook, or by sending us an email at [email protected]
Share this post