Want to Volunteer Virtually? Here's How
Virtual volunteering is a trend that promises to grow, as more and more of our lives move online. In this Q&A, Yvonne Siu Turner of Points of Light sat down with Jared Chung, founder of CareerVillage.org, an organization that crowdsources career advice for at-risk youth, to explore the growing micro and virtual volunteering movement.
Q: What is virtual volunteering?
A: Virtual volunteering – sometimes called "e-volunteering" – is any kind of volunteering that supports a cause with a primarily online interaction. In some cases, I've seen virtual volunteer activities kick off or end with an in-person activity, but the core of the volunteering program takes place online.
Virtual volunteering is actually not that new – it started to emerge in the 1990s and is now maturing with some really interesting models.
Q: How do people volunteer virtually?
A: There are a couple of flavors of virtual volunteering: the remote/telecommuting model and what I would call the "Virtual Volunteering 2.0" model. With the remote/telecommuting model, you can do a pro bono marketing project, for example, for a nonprofit organization in another city, state or country.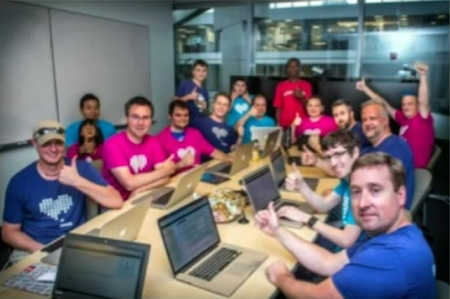 Zynga employees volunteer virtually together during the company's Spring Service Days.
In that case, the volunteer's communications with the NGO (nongovernmental organization) and the core project would be done virtually. You could find those opportunities on marketplaces including UN Volunteers, Points of Light's AllforGood.org, or VolunteerMatch.
The other flavor of virtual volunteering is the Virtual Volunteering 2.0 model. These are volunteer projects that are enabled only through the Internet, and are in many ways similar to the Web 2.0 revolution in usability and interaction. Wikipedia, which allows volunteers to contribute to an online encyclopedia, is a good example. Crisis Text Line, which allows volunteers at home to text message with young people who are facing a personal crisis, is another.
CareerVillage.org, the organization I lead, uses online volunteers to share career advice with low-income youth over the Internet. Since we started three years ago, we have scaled to reach over 500,000 learners who are using the platform to get advice from our online volunteers.
Q. What's unique about virtual volunteering?
One of the nice things about virtual volunteering is that we tend to engage a lot of first-time volunteers. In fact, 80 percent of volunteers who sign up through CareerVillage are first-time volunteers. There are a lot of reasons for this. First, it's accessible and inclusive – anyone with access to the Internet can participate in CareerVillage.org or a virtual program.
Second, virtual volunteering is very flexible, so it's a great option for employees or people that don't have a lot of spare time. For example, at CareerVillage volunteers can share advice in 15-minute increments on their break during the day or on nights and weekends, as projects aren't as time sensitive.
Third, it's easy to get started – on CareerVillage we have our volunteers create an account with their LinkedIn account so they can be up and running within a minute or two giving advice to students.
Q. What has surprised you most about virtual volunteering?
Probably the most gratifying discovery has been that we haven't lost the humanity of volunteering by going online. Actually, it turns out volunteering online has just as much personality and humanity as volunteering in-person. Young, Internet-connected volunteers don't actually have to see the face of the beneficiary every time they do a service activity online.
If they can connect a couple times with the beneficiary – at the beginning and end of a project – they still feel like there's a face behind the screen and that they are having a big impact. So, we're seeing that the Internet has not dehumanized volunteering. It has actually become a catalyst to unlock even more volunteers in service to their communities. And that's exciting.
Q. How can people get involved?
If you're looking for a personal volunteer opportunity, please consider signing up as a volunteer at any of the platforms I mentioned (Wikipedia, Crisis Text Line or CareerVillage.org).
If you're looking to explore virtual volunteering broadly, I'd encourage you to reach out to Points of Light (at [email protected]) for other great examples of virtual volunteer programs, or search for opportunities on AllforGood.org or other online volunteer marketplaces.
If you're a corporate social responsibility professional looking for a virtual volunteering program to engage your employees, we can also help with that (for example, by email we're available at [email protected]).
To learn more about virtual volunteering, watch this video featuring Jared Chung in our Corporate Video Lecture Series.
Share this post