Entrepreneurs: Here's How to Nail Your Startup Accelerator Application
This post is by Megan Christenson, program manager for the Points of Light Civic Accelerator.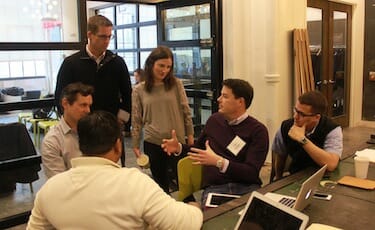 For many startup accelerator programs, the written application is your only chance to prove why your venture deserves a shot. How can you ensure your venture will stand out?
This April will mark the start of the fourth round of the Points of Light Civic Accelerator program since our launch in 2012. Our team has met with several hundred social entrepreneurs and reviewed nearly 500 business plans. We've figured out how to spot the great ones.
As the application deadline for our spring 2014 program nears (Friday, March 7 – don't forget!), we thought we'd compile the most common application blunders and offer a few pointers to make your application shine.
Mistake 1 – Confusing market size with traction
Stating a large market size or the gravity of the social issue doesn't mean that your venture is poised to gain a slice of the market share pie. More importantly, market size is not synonymous with demand.
The Question: What proof do you have that your customers are willing to buy your product or service?
The wrong answer: "Waste management is a $200 million dollar industry, and 1 million people are without proper sanitation services. This is an untapped market ripe with demand."
The fix: "In our pilot phase, we secured 300 users of our waste management system. Of these users 20 percent renewed their subscriptions, and since opening our product to the public we've experienced an increasing rate of user adoption. If we can continue to grow at this rate over the next year, we will net $2 million in recurring revenue.
No one can argue with real numbers. If your product or service isn't live yet, positive testimonials from customer interviews, preregistered users or results from product focus groups can also hint at potential demand.
Mistake 2 – Believing you don't have competitors
Even if you are the first to market with your innovation, the status quo is your biggest and most threatening competitor.
The Question: Who are your main competitors, and what makes you different and unique from them?
The wrong answer: "Our community-based waste management system is the first of its kind. We do not have any known competitors."
The fix: "Our research shows that convenience and acquisition cost are the biggest barriers to adopting any kind of advanced waste management system. The existing solution, while it generates long-term health implications, does not cost the user additional money or time. Our waste management system is the first of its kind to actually generate supplemental household income, and is designed with cultural tendencies and existing user behavior in mind."
You must demonstrate awareness of the other solutions to the problem (or why they haven't been adopted). Even better, show that you understand how your target customer currently manages or deals with this problem and why your solution is better.
Mistake 3 – Confusing a lack of seed funding as a challenge versus a symptom
Funding is not your biggest challenge. All of the reasons why you haven't received funding are your biggest challenges.
The Question: What is your venture's biggest challenge?
The wrong answer: "We've had a hard time connecting with the right investors. With a little bit of seed capital we would be able to successfully scale our venture."
One possible fix: "One of our biggest challenges right now is identifying the right channel(s) for expansion. Our first pilot was a huge success, due in part to strong local networks rooted in years of personal relationships. We know that this will not be the case in other markets. As we prepare to scale, it is crucial that we identify the right kind of strategic partners and that we are able to quickly and clearly articulate our value to these partners."
Other great responses we've seen to this question include sharing feedback from funders and identifying the struggle to incorporate that feedback.
Other advice to consider:
Demonstrate flexibility. For example, when did you pivot in response to customer or user feedback?
Show you can play nice with others. What do you have to learn from others, and what lessons can you share?
Be succinct. Brevity allows reviewers to find your strongest elements quickly.
For accelerator managers, what other advice do you have for entrepreneurs? For entrepreneurs, what else would be helpful to know about the accelerator application process? Drop us a line at [email protected], and let us know!
Share this post