Experiencing the Living Legacy of Dr. Martin Luther King
By Natalye Paquin, CEO, Points of Light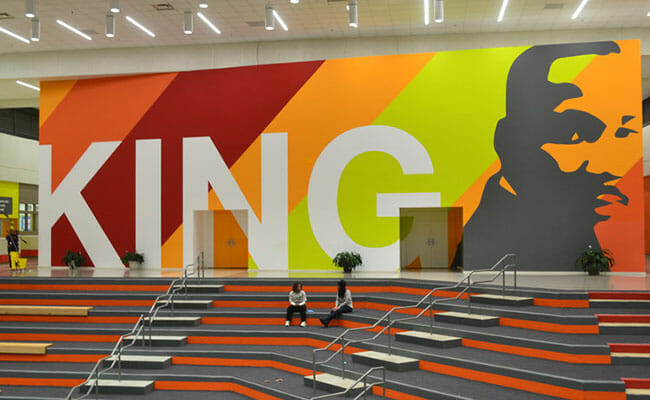 Photo courtesy of Hands On Atlanta
At Atlanta's Martin Luther King Jr Middle School, volunteers with Hands On Atlanta sit in front of a mural of Dr. King on MLK Day of Service.
As someone whose early career was as a civil rights attorney and who now leads a global organization focused on volunteering and service, spending the Martin Luther King Jr. holiday in Atlanta is a full circle experience. In the span of five days, we joined this community to honor civil rights leaders; break bread together while discussing economic justice; roll up our sleeves to offer love and care to a west Atlanta neighborhood; and host just more than 50 Fortune 500 companies focused on integrating social purpose with business strategy. Dr. King said, "Life's most persistent and urgent question is 'what are you doing for others?'" The answers we heard inspire hope.
On a national stage, at the Salute to Greatness hosted by The King Center, Dr. Bernice King honored amazing leaders who work to make their community and our world a better place. From U.S. Sen. Corey Booker, whose policies promote the values of social and economic justice, to Puerto Rico's San Juan Mayor Carmen Yulín Cruz who has been a light in the darkness, leading her community out of despair after a devastating hurricane, to Hamdi Ulukaya, the founder and CEO of Chobani, who shared that his company's values include producing affordable nutritious food and its employees' rights. These honorees demonstrate what's possible when you value and commit to doing what's right.
Dr. King's teachings show us that agreeing on "what's right" isn't easy but can come from meaningful dialogue about difficult subjects. Rooted in that philosophy, Points of Light provides tools for hosting Sunday Suppers to offer a facilitated forum for people to come together, have tough conversations, learn from each other and discover actionable solutions. This year, our affiliate Hands On Atlanta was the catalyst for 50 such suppers throughout the city. The largest of these Sunday Suppers was a sold-out event live-streamed by WXIA, which gave the entire community a chance to be part of a rich discussion about economic justice and opportunity. The growth of this event, the attendance and engagement demonstrate the need and desire of community to share, reflect and problem-solve, together.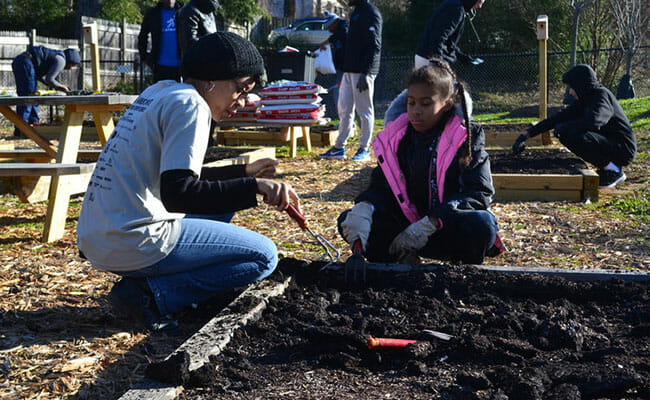 Photo courtesy of Hands On Atlanta
Volunteers do some gardening work as part of a beautification project in Atlanta's English Avenue neighborhood on MLK Day of Service.
Despite frigid temperatures in Atlanta, the MLK Day of Service was reinvigorating as nearly 150 people rolled up the sleeves of their big, bulky coats and got to work in the city's English Avenue neighborhood. The volunteers, including residents, along with Southwest Airlines and KPMG employees, and members of the Points of Light Corporate Service Council, cleaned up a park, restriped a parking lot, and painted vibrant art boards with inspirational messages. These projects were part of Points of Light's Resilient Communities work with Southwest Airlines, an 18-month initiative in partnership with three of our local affiliates. Hands On Atlanta's focus effort in English Avenue has been in collaboration with residents, like Annie Moore, to revitalize the area. Annie freely and wholeheartedly chooses to make every day a day about serving and being a light for others, and we were honored to recognize her with Daily Point of Light Award No. 6,175.
The English Avenue service projects were a subset of 30 projects across the city organized by Hands On Atlanta that engaged nearly 1,900 people as volunteers. These efforts are representative of the energy and activity across the country in which Points of Light, our affiliates and grantees engaged nearly 150,000 people in service projects and Sunday Suppers.
Our greatest opportunity for meaningful impact is through this coordinated effort that includes residents, community leaders and business leaders. More than 50 corporate partners that are focused on integrating social purpose into their business strategy joined us in Atlanta to connect and collaborate as part of our Corporate Service Council. UPS Chairman and CEO David Abney, along with chief diversity and inclusion officer and UPS Foundation President Eduardo Martinez, welcomed us to the company's headquarters where a diverse group of speakers representing small and large companies discussed everything from data philanthropy to storytelling. This determined group wasn't deterred by the snow and ice that closed down the city on day two, as our Points of Light team quickly organized what would have been workshops into webinars. More than 50 participants who had traveled to Atlanta stayed warm in their hotels and joined the online discussions and we didn't miss a beat.
This series of events marking Dr. Martin Luther King's birthday throughout the week is significant. It shows us that even as we approach 50 years since Dr. King's voice was silenced, his vision was not and his legacy lives on through the ways in which we answer that question, "what are you doing for others?"
Share this post