Finding New Ways to Solve Old Problems
With new approaches, the 14 startups participating in the spring 2014 Points of Light Civic Accelerator are addressing some of society's greatest challenges, including homelessness, hunger and access to education.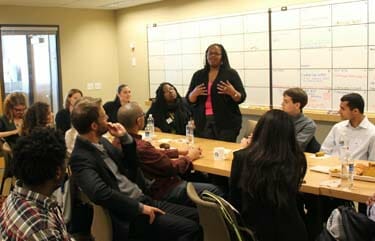 Nzinga West, standing, of Project SYNCERE shares the venture's challenges and opportunities with the Starbucks Digital and Foundation Teams in Seattle.
Points of Light recently gathered the budding enterprises, both nonprofit and for-profit, to kick off the fourth Civic Accelerator – an intensive, 12-week startup boot camp that includes mentoring, entrepreneur education, peer support and networking. Points of Light will offer two of the most promising ventures – as selected by the entrepreneurs themselves – a $50,000 investment after the program wraps up in Atlanta in June.
In late April, we held the first session of the spring program at Impact Hub Seattle. The 14 startups came together for peer review, problem solving and business fundamentals coaching from leading industry experts such as Smallify CEO David Viotti, the Starbucks Digital Team and local investors.
If you're interested in participating in the next round of the Civic Accelerator please email [email protected]. In the meantime, check out our spring 2014 class:
The Points of Light Civic Accelerator was launched in 2012, in partnership with Village Capital, and receives generous support from PwC Charitable Foundation and Starbucks Foundation, both founding partners, and from the Blackstone Charitable Foundation, SAP and the accelerator's official hotel sponsor, Hilton Worldwide.
Share this post