Everyone Wins in This Workers' Competition
This post is by Jackie Norris, executive director, and Sarah Boison, marketing manager, of the Points of Light Corporate Institute. It is part four in a seven-part blog CSRWire series exploring the community engagement practices of winning companies in The Civic 50, an initiative launched in 2012 by Points of Light, the National Conference on Citizenship and Bloomberg. The Civic 50 identifies the top 50 community-minded S&P 500 corporations that best use their time, talent and resources to improve the quality of life in the communities where they do business.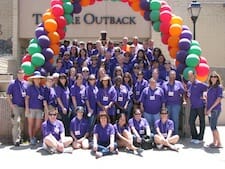 Aetna employees volunteered for four days to bring health screenings to more than 1,500 athletes competing in the Arizona Special Olympics summer games last year.
At more than 1.4 million free health screening clinics in 120 countries, the Special Olympics Healthy Athletes program offers health services and information to athletes in need – making the Special Olympics the largest global public health organization dedicated to serving people with intellectual disabilities.
Volunteers make this work possible. In Arizona, a group of Aetna employees made it their mission to help the Special Olympics screen athletes in their own community – demonstrating a longtime company commitment to help all people live healthy lives.
Competing for Impact
Aetna's culture encourages employees to give back to the community. To make it easier for employees to volunteer, Aetna created an intranet site called Aetna's Employees Reaching Out (AERO). The site allows 54 Aetna Volunteer Councils in 46 cities around the world – run by employees – to post local volunteer opportunities. Aetna employees can also find opportunities and log in their volunteer hours through AERO. Employees frequently work with their managers and co-workers to help find time to volunteer at organizations of their choice.
If an Aetna employee volunteers 20 or more hours, he or she is eligible to apply for a grant to benefit a nonprofit organization through Aetna's Dollars for Doers Program. The program donates $300 cash grants to qualified nonprofit organizations based on level of employee involvement, usually as volunteers or board members. Last year Aetna employees logged in 401,000 volunteer hours, the highest number of hours in one year since AERO launched in 2003.
AERO also serves as the hub for Aetna's team volunteering competitions. Every year, five to 15 volunteer teams are selected by the Community Relations and Urban Marketing area as top projects, and employees get to vote for their favorite. The most recent winner was from a volunteer project where more than 225 employees from Aetna and Mercy Care Plan (for which Aetna provides administrative services) served for four days to bring health screenings to more than 1,500 athletes competing in the Arizona Special Olympics summer games. At the Arizona Special Olympics Healthy Athlete Village on site, the employees helped register participants, escorted athletes around the festival area and then served as clinical assistants in the village – a fun and upbeat environment for athletes, sponsors and families.
"Athletes participating at the event were taken to various stations including hearing, vision and dental and received a T-shirt upon completing all six stations," said Karen Krell, an Aetna employee who volunteered during the event. "The athletes were eager to race through the event and Aetna employees were excited to serve."
Aetna and Mercy Care Plan employees also submitted their story on the AERO site and won the competition with 993 votes from employees. Each vote was worth $5, which gave the team a total of $4,965 in Aetna grant money that was donated to the Arizona Special Olympics.
The Arizona Special Olympics is often the only place where athletes with intellectual disabilities in the state have an opportunity to participate together in their communities. For the athletes, Special Olympics sports events provide a gateway to empowerment, acceptance and joy. The health screenings and checkups become an important added benefit.
"Aetna is committed to improving the quality of health care for everyone by helping to build healthy communities," said Floyd W. Green III, Aetna's vice president of Community Relations and Urban Marketing. "Every day, our approximately 47,500 employees help empower people to live healthier lives. However, they also go above and beyond their daily efforts with extensive charitable donations and volunteering in the communities where they live and work. Their commitment to their communities is a major aspect of the outstanding culture that Aetna employees have established for our company."
Changing Lives, Enriching the Workplace
The event at the Arizona Special Olympics is just one of the thousands of volunteer events in which Aetna employees participate around the country and around the world. From organizing companywide volunteer competitions to holding annual service events that include top executives, the company fosters a culture of service and promotes workplace teamwork. Last year, thousands of Aetna employees participated in volunteering and giving programs.
In addition, in 2013 Aetna and the Aetna Foundation awarded more than $20 million to nonprofit organizations around the U.S. The grant-making focused on improving nutrition and increasing physical activity; promoting equity in health and health care for chronic conditions; building a more diverse generation of health care professionals; and exploring innovative solutions to promote wellness and achieve health equity for low-income and minority communities.
With a commitment to help people around the world live healthy and sustainable lifestyles, Aetna has integrated its employees and philanthropic efforts with its business model centered on healthy living. Through this dedication to help others, Aetna demonstrates why it is a leader in cultivating a civic-minded workplace.
Share this post