Meet These Heroes, and Create the Next Generation
This post is by Tracy Hoover, president of Points of Light.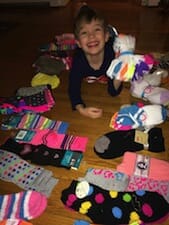 Kellon Oldenettel
At age 5, Illinois' Kellon Oldenettel has already tapped into his power to spark change.
As a 3-year-old, he participated in a neighborhood clean-up project with his family. Last Christmas, when Kellon began to understand that some kids don't get holiday presents, he asked his mom what else kids are missing.
She talked about kids without homes and enough food to eat. "Does that mean they don't have socks?" Kellon asked. When he got his answer, Kellon set out to collect and donate socks for children and adults in his community. So far, he's donated more than 1,200 new pairs to people who need them.
Kellon's story shows that kids are never too young to serve – and to lead. They bring fresh perspective, new tactics and renewed energy to the world of volunteer service. They create real change, and while they're at it, they inspire their friends and the rest of us to join them.

Each year, Hasbro and generationOn – Points of Light's youth service enterprise – gather to honor young people who are making a difference. Last week in New York City, Paula Abdul and Olympic medalists Shannon Bahrke and Billy Demong presented the 2014 Hasbro Community Action Hero award to Kellon and five other change-agents. I hope you'll take a minute to read their amazing stories here.

When I had the chance to talk to Kellon and the other action heroes, I was struck by how clearly they see the ways that volunteering changes people and changes the world. I think Kellon summed it up best when he said, "When you are nice, other people might be nice back, and then maybe they will do something nice for other people."

Kellon's mom helped him turn community observations and an instinct to help into an action plan. Here's how you can be a partner to the young people in your life:
I'm inspired by the vision and drive of these young change-makers. They bring their time, talents, families, friends and resources to causes they care about most.
If you know kids who are great volunteers, I hope you'll tell me more about them or contact generationOn!
Share this post