The First ServiceWorks Bootcamp: AmeriCorps VISTAs Help Direct the Future for Opportunity Youth
This post is by Georgia Gillette, senior vice president of programs at Points of Light.
A bit of ServiceWorks history was made recently as we launched a brand new component to our program. As part of our national effort to mark the Martin Luther King, Jr. holiday with a day of service learning, we debuted a one-day version of our curriculum, centered around a service project benefitting local communities around the country.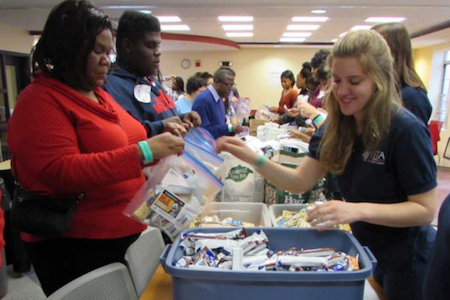 Volunteers and AmeriCorps VISTA members pack care kits for Washington, D.C.-area homeless during the first ServiceWorks Skill Building Bootcamp.
And the very first of our 15 host sites to put on a Skill Building Bootcamp was the Community Preservation and Development Corporation (CPDC) in Washington, D.C. These firsts are obviously an important and exciting step as we continue to expand our reach and impact.
But it was also meaningful for me personally, because it was my first chance to see this collaborative initiative from Points of Light, the Citi Foundation and the Corporation for National Service in action.
It blew my mind. Talk about layer upon layer of meaningful service; it was like seeing a thrilling performance of a play within a play. And the directors of that play were AmeriCorps VISTA members.
Ahead of this year's MLK Day of Service, Max Finberg, the new director of the AmeriCorps VISTA program, wrote an inspiring blog explaining the critical role VISTAs play America's struggle to lift its citizens out of poverty.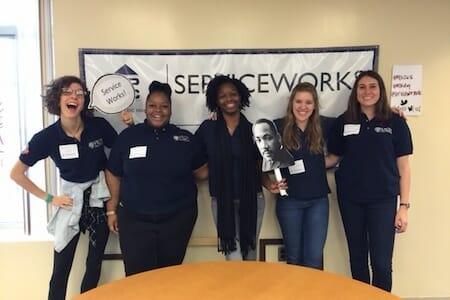 AmeriCorps VISTA members show their enthusiasm at the first ServiceWorks Skill Building Bootcamp, held in Washington, D.C.
That role is just as critical within ServiceWorks. VISTAs are passionate, professional and talented young people who've signed up for a year of national service to support poverty-fighting nonprofits, working with host agencies like CPDC – and can be the backbone of a program.
In our case, VISTAs are responsible for recruiting "opportunity youth" to join the program. These are 16-to 24-year-olds at risk of becoming disconnected from college and career. And getting them in our proverbial door – no easy feat. So the VISTAs at CPDC are finding ways to get creative in reaching this population.
Our VISTAs are provided with a service learning curriculum that helps "Service Scholars" – the program participants – learn about the value of volunteerism for themselves and their community, develop professional networks and even design their own service project.
To better appeal to potential participants, ServiceWorks DC VISTAs go above and beyond – tweaking and adjusting the curriculum to target the needs of the young people and the community in which they serve. They're also charged with recruiting professional volunteers to deliver pieces of the curriculum or act as success coaches to the Service Scholars.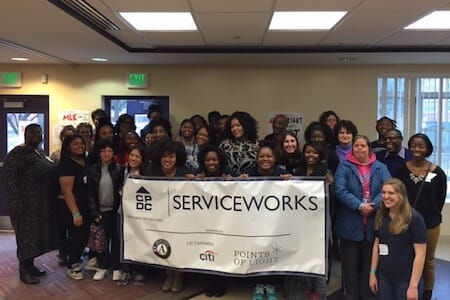 AmeriCorps VISTA members, volunteers and ServiceWorks participants gather for a service project as a housing community in Washington, D.C.
For this special day, the VISTAs worked beautifully together as a team of five. These young women epitomized national service – diverse, energetic, prepared, committed, able to problem solve on the fly – and frankly, full of fun.
If the VISTAs were the on-site directors of this unique ServiceWorks event, the stars of the show were the Scholars themselves. Getting up early on a cold Saturday to do a six-hour service "bootcamp" isn't for everyone. The 10 or so scholars I met reminded me of the great potential in any group of 16- to 24-year-olds.
These kids had been recruited from various high schools in the neighborhood, but didn't necessarily know each other at the beginning of the day. They probably weren't entirely sure why they were there or what to expect. The start to the day reminded me a little of the coming-of-age movie, "The Breakfast Club."
But within an hour of icebreakers and team-building activities, expertly led by the VISTAs, the Scholars were engaged and ready for whatever came their way. They were there to learn, to explore, to meet new people, to have fun and to make a difference in their community. They asked questions, they jumped into each activity with gusto and their individual personalities and passions came out more and more with each new activity.
Let's not forget the importance of the supporting cast in a play. In ServiceWorks, community volunteers have an important role — and in this case, may have stolen the show. In the middle of the day, the VISTA team put together a project to show Scholars what's possible through service – assembling care kits for those in need.
Adults from Target Community & Educational Services Inc., an organization serving adults with mild mental disabilities, joined the entire group. They were thrilled to be there, and so eager to serve. They hung on every word of the directions, and devoted focused attention to each step in the assembly line.
The accomplishment and joy they felt at successfully packing each kit was palpable, and their enthusiasm sustained the rest of us. The Scholars seemed motivated by their new "friends in service" – cheering them on, offering to help and getting to know them.
Energized by the project, Scholars then got down to the bootcamp material – a series of sessions on topics such as professionalism, resume writing and dressing for success. An entirely new cadre of community volunteers joined to facilitate these lessons.
One session was led by an African-American woman who grew up in Philadelphia. She'd made it out of the inner city and served more than 20 years as a foreign service officer with the U.S. State Department. The Scholars were impressed by her professional accomplishments and were captivated as she told them how she got there.
There really was service everywhere you looked at Mayfair Mansions Community Center that day. It was clear that volunteers come in all shapes and sizes, and have different abilities and motivations.
But thanks to the direction of ServiceWorks VISTAs, it all comes together – surrounding our next generation of college students, professionals and service leaders with diverse and heartfelt volunteer skills, success stories, and solutions to personal and community challenges.
Share this post