Before the Next Storm Hits, Register to Help Your Neighbors
Snow can paralyze communities, causing food shortages, traffic accidents and exposing vulnerable populations to extreme cold.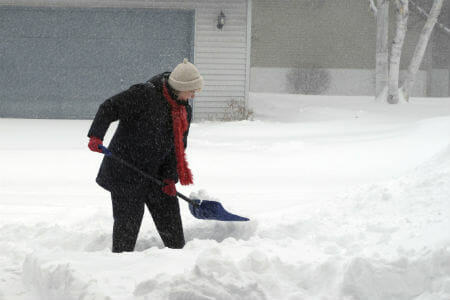 Winter Storm Jonas caused havoc in cities and rural communities – affecting 102.8 million people and covering about 434,000 square miles in 26 states, according to the National Oceanic and Atmospheric Administration. And, as CBS News reported, preliminary estimates say the economic impact of the storm may top $850 million.
While snow can be devastating, our world is more connected to community resilience resources. Points of Light's HandsOn Network affiliates activated their communities to come to the rescue. Among them:
Long Island Volunteer Center (with support from disaster buddy Volunteer Knoxville) created a Jonas page to register volunteers in partnership with local disaster response officials to respond to immediate needs.
Volunteer Alexandria, in the D.C. area, had 28 "snow buddies" assisting 67 local residents. Each volunteer contributed approximately three hours during the storm. One grateful resident said, "I'm 92, and I was so scared about how I would get out. You are like angels."
If you don't have a HandsOn Network affiliate in your area, consider registering with other emergency disaster snow groups. SnowCrew.org provides a platform to connect community members with volunteers who shovel snow.
Neighbor-to-neighbor assistance supports local residents and taps into the American spirit. Before the next storm hits, register to help today!
Share this post