George P. Bush honors Grandfather, President George H. W. Bush, in USA Today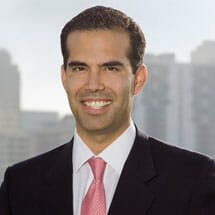 George P. Bush
This morning USA today featured a moving op-ed written by George P. Bush, Jeb Bush's son and the grandson of President George H. W. Bush. The piece also highlights the upcoming Tribute event, which we will officially announce to the public next Tuesday morning, February 22nd. George P. Bush honors President George H. W. Bush's extraordinary leadership in the American voluntary action movement and discusses his own inspiring path to service that started at a young age.
When I was 12, I went to Washington, D.C., to spend the summer with my grandparents in the White House, and one of the first things my grandmother did was to take me to volunteer at a soup kitchen in downtown Washington. Like any 12-year-old, I was reluctant at first, thinking that playing sports and hanging out with my friends were more important than volunteering. It was only later, when my passion for baseball combined with my family's call to public service, that I understood the profound rewards of giving back.
George P. discusses the impact that his grandfather had on him personally with service and how he was inspired to join the Navy as well.
For me, the moment when I realized it was my turn to do my part for our country came on Oct. 7, 2006. That day, I witnessed my grandfather become the first living president in U.S history to participate in the christening of a warship named for him: the USS George H.W. Bush. . . Gampy's remarks that day — a rare, personal window into his heroic service in World War II — affected me deeply. . . I knew then that I needed to do more. Soon afterward, I phoned my grandfather to let him know that I intended to follow in his footsteps and join the Navy. Several months later, I began my naval training.
Read the full USA today article here
To create your own Tribute to George H. W. Bush or write a Tribute to someone who has impacted your life or your communities enter our Facebook Contest and help celebrate the power of individuals to create change.
Share this post