Giving Back Is a Responsibility and a Privilege for These Workers
Elaine came straight from her graveyard shift to do some good for her community. She joined a couple thousand of her co-workers from TELUS International Philippines to volunteer for Brigada Eskwela, an annual Philippine Department of Education program that invites volunteers to help maintain school buildings and create good learning environments for students.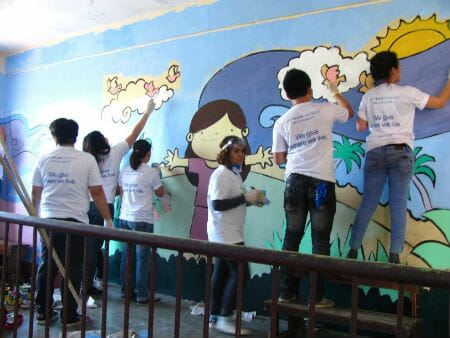 TELUS International Philippines volunteers paint a mural at a local school.
"I am grateful that I am here today; I also studied in a public school," she said. "I'm happy that I am able to help the 50 students using the classroom we are repainting."
TELUS International Philippines, one of the country's pioneering companies in the global call center outsourcing and IT development industry, considers corporate social responsibility as the cornerstone of its culture. Its philosophy – "We give where we live" – is anchored on the premise that it is both a responsibility and a privilege to give back to the community.
For the past three years, TELUS has partnered with Hands On Manila to take part in Brigada Eskwela, in line with the company's annual TELUS Days Of Giving. During those days, TELUS employees have opportunities to volunteer in community-building efforts.
This year's Brigada Eskwela venue was Tenement Elementary School in Taguig City, in metro Manila. More than 2,000 TELUS employees who came to the May 16 event repainted 54 classrooms in four buildings, refurbished 2,000 chairs, painted 54 mini-fences and potted 600 ornamental plants.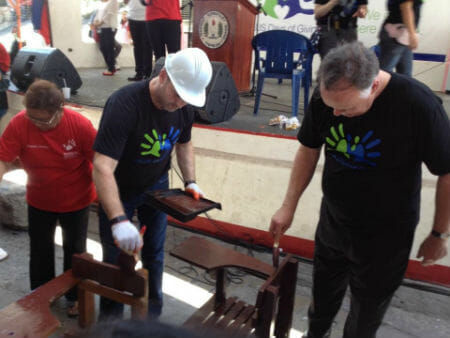 From left, Tenement Elementary School Principal Geronima Garcia, TELUS International President and CEO Jeff Puritt and Canadian Ambassador to the Philippines volunteer at Garcia's school during Brigada Eskwela.
Some groups painted 12 murals along the school's staircase and helped 50 kids participating in a hygiene workshop. On the same day, TELUS broke ground to start construction of a two-room kindergarten building the company is donating.
Hands On Manila, which brought 130 volunteer leaders to help manage the projects and volunteers at Tenement Elementary School, actively fosters volunteerism in the corporate world. The nonprofit – part of Points of Light's HandsOn Network – has partnered with hundreds of corporations like TELUS, an average of 50 partners a year for community service in metro Manila and elsewhere around the country.
Events like Brigada Eskwela show the good that nonprofits and businesses can accomplish together.
As TELUS International President and CEO Jeff Puritt said, "In order to do well in business, you must do good in the communities where you work, live and serve."
Share this post