Saluting Barbara Bush and the Points of Light Fighting to End Illiteracy
This post is by Tracy Hoover, Points of Light's CEO.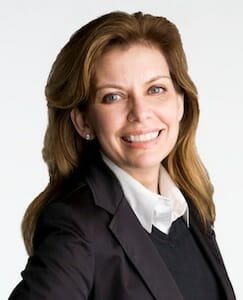 Tracy Hoover
Former First Lady Barbara Bush "vowed to make a difference every single day," as granddaughter and TODAY show correspondent Jenna Bush Hager told viewers this morning. Here at Points of Light, we see the difference Mrs. Bush continues to make, inspiring others every day. And in honor of her 90th birthday, we'd like to celebrate her commitment to literacy by recognizing three Daily Point of Light award winners who – in their own powerful ways – are taking action to spread the joy of reading.
Daily Point of Light awardee #5429 Cara McCollum created the Birthday Book Project, providing books as birthday presents to kids who otherwise might not have books at home. Today, she has delivered more than 25,000 books to children in New Jersey and Arkansas.
In Houston, Daily Point of Light awardees #5086 Sandra Ahlhorn and Amy Barnes learned about "summer slide" – the loss of learning that can result during the summer, especially when there aren't books in the home. In 2012, they created Books Between Kids. Since then, they've distributed more than 400,000 books to children in Houston schools.
When Mrs. Bush presented the Houston award, alongside her son and Points of Light Chairman Neil Bush, she thanked the awardees "for making a true difference in the lives of children." She added: "Amy and Sandra are perfect examples of George's vision."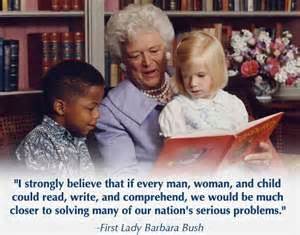 As founder of the Barbara Bush Foundation for Family Literacy, Mrs. Bush continues to bring a tenacious focus and commitment to giving young children the resources they need to develop a love of reading and providing parents with a second chance to acquire the literacy skills they need for a promising future. The program supports more than 900 family literacy programs across the nation. In honor of Mrs. Bush's birthday more than $17 million has been raised, including a first-ever "X Prize" for Adult literacy.
So today, we salute Mrs. Bush and all of the points of light who are helping to create a constellation of change agents and the momentum that's needed to wipe out illiteracy and solve this problem as Mrs. Bush envisions, "one child, one family at a time."
Are you feeling inspired? Send a happy birthday wish to Mrs. Bush and check out literacy volunteer opportunities in your neighborhood here.
Share this post