Going Green for Free and Saving Hundreds
Debra Garrett's house went green, but she didn't have to spend any green. Thanks to Hands On Nashville, Garrett's home has new lights, water filters, thermostats, smoke detectors, and a new showerhead and fire extinguisher.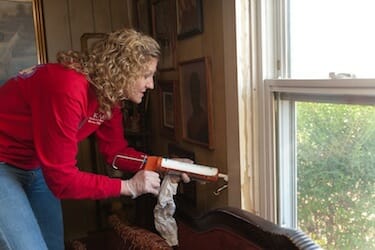 A Hands On Nashville volunteer fixes a window pane in an old home.
Garrett is one of 160 homeowners to benefit from Hands On Nashville's Home Energy Savings Program since 2011. The program engages volunteers to make energy and safety improvements at no cost for qualifying low-income Nashville residents.
"I really appreciate everything they have done to my home," Garrett says. "I did not realize how important these improvements could be for me, and the volunteers were absolutely wonderful to work with."
The Home Energy Savings Program is funded by the profits of Go Green Home Services, which provides high-quality home energy improvements for an affordable fee. The socially responsible business is a joint venture of Hands On Nashville and Nashville residential real estate firm Village Real Estate Services.
The Home Energy Savings Program has three key goals: decrease low-income homeowners' utility bills, decrease energy consumption in the area with sustainable improvements and engage community volunteers in service.
The program has saved each homeowner an average of 16 percent – or $600 – a year on their utility bills. For low-income households, that money can help a great deal, says Brian Williams, Hands On Nashville's president and CEO.
And while the homeowners learn how to keep their utility bills down, so do the volunteers.
"Throughout the process both the volunteers and the homeowners learn innovative ways to decrease energy consumption and make sustainable home improvements," Williams says.
Volunteers can choose from a list of Home Energy Savings projects online. Occasionally corporate teams will volunteer together.
Williams says Hands On Nashville would like to increase the number of volunteers and homeowners helped, perhaps reaching hundreds of homes each year.
"We are really proud of how our programs have become a wrap-around service in a way to help all segments of the population through both paid and unpaid services," says Williams.
Share this post
---