Would You Do This to Help Your Neighbors?
As snowstorms give way to spring showers, we give thanks to those who stepped up during the rough winter season – like the volunteers of Serve Rhode Island.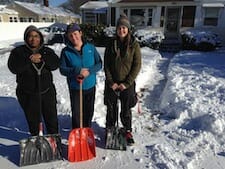 East Bay Community Action AmeriCorps members, shown here, were among the volunteers who responded to Serve Rhode Island's call for volunteers to shovel snow.
In response to several snowstorms in the area, the Providence-based volunteer center, dispatched hundreds of volunteers to shovel sidewalks and driveways at residences of the elderly and the disabled. During the past two winters, volunteers have helped at 500 residences.
"Shoveling a driveway seems so simple, but to seniors, elderly and disabled folks it impacts their ability to get medical care, go to doctors' appointments and get food delivered," says Marisa Petreccia, director of operations at Serve Rhode Island. "So from our vantage point we are making sure that their basic needs are still being met in times of disaster."
The snow-shoveling program began in February 2013 when Serve Rhode Island recognized there was no statewide or community effort to help residents clear the snow from around their homes.
Serve Rhode Island, part of Points of Light's HandsOn Network, contacts residents to assess what kind of help they need. Homes are then posted as assignments volunteers can sign up for online. The volunteers – community members, neighbors and AmeriCorps members – are enthusiastic about the work.
William Volpe, a teacher and counselor from Central Falls, R.I., helped shovel out 10 residents during the winter.
"When I helped out during Winter Storm Hercules, not only did I get to help elderly and disabled residents in my neighborhood, but I also enjoyed my time and was able to get some great exercise," says Volpe. "Giving back is certainly a way to show my gratitude to the many elderly and disabled residents who have given much to the community."
Petreccia says the volunteers generally share that sentiment: "There's a growing aging population in our state and so I think many of the volunteers are paying it forward by helping their neighbors and with the idea that, 'I hope this program continues so that if I am ever in this situation I will also have the resources.'"
To find a volunteer center near you, check out the HandsOn Network map.
Share this post