Here's How You Can Help Tornado Victims
Beginning on April 27, a dangerous storm system sparked a series of tornadoes causing extensive damage and power outages across the central and southeastern United States. The severe storm threat continues as the storm systems move east.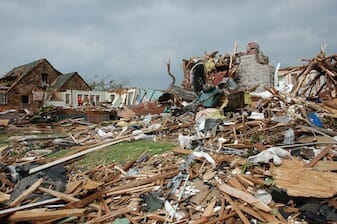 Points of Light's HandsOn Network is the expert in volunteer engagement and our affiliates often lead their local communities in managing spontaneous, unaffiliated volunteers throughout response and recovery efforts. Points of Light is coordinating with HandsOn Network affiliates in the affected areas and connecting with Voluntary Organizations Active in Disaster (VOAD) chapters across the U.S. to assess the situation and offer support.
If you would like to support the recovery effort, here's what you can do to help:
PLEASE DON'T:
Don't self-deploy at this time. The situation is still critical and travel is extremely difficult or impossible throughout much of the affected area.
Don't bring supplies or donations to fire stations, police departments, etc. First responders need to focus on immediate needs and emergency situations.
PLEASE DO:
Do donate to help Points of Light and HandsOn Network affiliates support the mobilization of volunteers in ongoing response and recovery efforts.
Do register your interest to volunteer on All for Good and check this page often for the latest updates on how you can help. (For Alabama, Mississippi and Arkansas, include the words "spring 2014 tornados" in the Volunteer Opportunity Name. For Alabama coastal and Florida coastal responses you should include the words "spring 2014 flood" in the Volunteer Opportunity Name.)
Do be prepared! As the devastation caused by these tornadoes reminds us, disasters can happen anytime, anywhere. Please take steps now to help your family and community recover more quickly from disasters. Visit www.goodandready.org/resources to download an emergency preparedness checklist and create a disaster readiness plan for your family.
Share this post