Good Conversation and `a Little Light' From a Volunteer Lead to Better Money Habits
This post is by Jamal Jimerson, a volunteer financial coach with the Financial Opportunity Corps.
In February, I met Linda R., a divorced mother who works full time as a preschool teacher and part time in a low-wage service job. She is passionate about teaching and has been in the field for 25 years.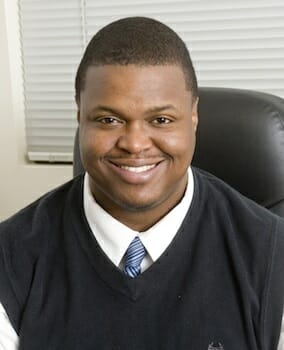 Jamal Jimerson
Linda lives with her adult daughter, who was recently laid off from her job. When her daughter became unemployed, Linda enrolled in the Financial Opportunity Corps program to get help with managing her household finances.
Through the program, I became Linda's financial coach.
As the director of Family Economic Success programs at the Connecticut Association for Human Services, it brings me great joy to take time off from my day-to-day responsibilities to volunteer as a financial coach. In this role, I work one on one with people facing economic hardship to provide them with meaningful support toward fulfilling their financial goals.
The Financial Opportunity Corps – a partnership between Bank of America, the Corporation for National and Community Service and Points of Light – gave me several hours of volunteer training to prepare me for meeting my first client, Linda.
During our first meeting, Linda explained that she did not have enough income to pay her bills and she needed to "build a savings." She told me more than once: "I save money, but I have to reach into my savings to pay my bills!"
I learned that Linda had some harmful financial behaviors and she did not have a budget. But she was creative and resourceful.
She already knew what her problems were – so my role was not to tell her what to do or how to do it, but to help her develop the confidence to do what she already knew.
At the end of our first session, Linda established a goal – save $600 in six months by saving $100 a month using direct deposit. To start the process, Linda agreed to participate in a free budgeting workshop.
During our second meeting, Linda indicated that she completed the budgeting workshop and put together a draft budget on her own. Our goal in the second session was to review her income and expenses. Linda discovered that there were ways to increase her income and decrease her expenses.
For example, Linda spends $14 a week on coffee at Dunkin' Donuts. The $2 a day she spends is usually on her way home from work as a "gift" to herself after a long day. However, we also discovered that she purchases a cup a day on the weekends as well. Linda determined that one effective way to decrease the expense is to avoid buying coffee on the weekends.
Linda also spends $100 a month to purchase supplies and games for her preschool students and another $100 a month on a storage facility to store extra supplies.
Recognizing that this is Linda's passion, we explored some options in this area, including comparison shopping to determine whether she was receiving the best deal on a storage facility, reusing materials and supplies from the storage facility as opposed to buying new items for the class, and researching grant opportunities for teachers.
Linda told me that she enjoyed sharing ideas and that there were many things she "never thought of doing" to improve her financial situation. For me, it has been a pleasure.
The Financial Opportunity Corps training equipped me well for this experience. I did not feel compelled to be the expert in Linda's life. All she needed was some good conversation, a little light and the confidence to get started on the pathway to her goals.
To learn more about the Financial Opportunity Corps, please visit www.pointsoflight.org/financial-coaching.
Share this post