On the Ground with the Financial Opportunity Corps
Nathalie Carril-King had been on the job less than a week when a young student walked into the College and Career Pathways Center at Flushing High School in Queens, N.Y., with a look of anxiety and frustration on her face.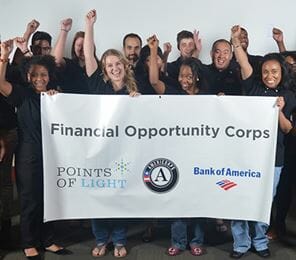 "She told me she wanted to go to college, but had no idea how to pay for it or where to start," Carril-King recalls.
Carril-King is an AmeriCorps VISTA member serving with Asian Americans for Equality (AAFE) in New York City. She is part of Points of Light's Financial Opportunity Corps, an innovative partnership between Points of Light, the Corporation for National and Community Service and Bank of America.
This fall, Carril-King and 19 other Financial Opportunity Corps members began their service with local nonprofit organizations in 10 communities around the country. Financial Opportunity Corps members will train volunteers to be financial "coaches" in their communities, helping residents learn strategies for reducing debt, improving credit, building assets, saving for emergencies and planning for the future. Like going to college.
"This program could not come at a better time," says Christopher Kui, executive director at AAFE. "While many think that all of New York City has recovered from the recent recession, the reality is that almost half of New Yorkers are making less than 150 percent of the poverty threshold."
Carril-King knows problems like these aren't solved quickly – and won't be solved before her term of service is over. But that's part of what attracted her to the Financial Opportunity Corps in the first place. Its innovative peer-to-peer training model is designed to equip community residents and volunteers to keep it going over the years she knows it will take to effect lasting change.
It's also one of the key reasons Bank of America partnered with Points of Light and the Corporation for National and Community Service to make the Financial Opportunity Corps a reality.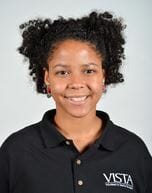 "Financial wellness is core to our company's purpose," said Kerry Sullivan, president of the Bank of America Charitable Foundation. "Through this partnership with Points of Light, we are supporting financial education efforts that can be scaled and sustained at the local level, leveraging the service of AmeriCorps VISTA members and our own employees to create positive change. That means customized solutions that put low and moderate income people – and their communities – on the pathway to long-term economic success."
Volunteers from the community and Bank of America employees will serve as coaches. Through its partnerships with Points of Light and other nonprofit organizations, Bank of America employees donated more than 1.5 million hours of volunteer service last year alone.
Carril-King is already seeing the potential one-on-one coaching can have.
"As we talked, I could see her face change," she says of the student she spoke with those first days on the job. "She was excited and more confident. I'm looking forward to more students being empowered to say, 'I can change this.'"
How you can get involved
The Points of Light Financial Opportunity Corps is looking for volunteer financial coaches. If you live in one of the following locations and would like more information on volunteering as a Financial Opportunity Corps coach with one of our nonprofit partners, please click a link below and send us a note!
| | |
| --- | --- |
| Atlanta, Ga. | |
| Austin, Texas | |
| Baltimore, Md. | |
| Bridgeport / Stanford, Conn. | |
| Detroit, Mich. | |
| Lauderhill, Fla. | |
| New York, NY | |
| Philadelphia, Pa. | |
| Portland, Ore. | |
| San Jose, Calif. | |
| | |
Share this post