Where Should Nonprofits Use Volunteers? Everywhere.
This post is by Tricia Thompson, vice president of training and consulting at Points of Light.
For every dollar nonprofits invest in effective volunteer engagement, they can expect up to $6 in return – a six-fold return on investment. Organizations that effectively engage volunteers are more adaptable, sustainable and capable of expanding. And they operate at almost half the median budget as nonprofits that don't make full use of what volunteers have to offer.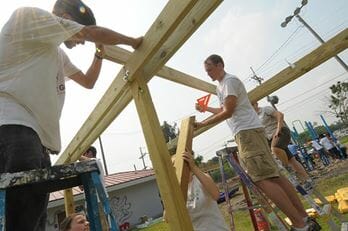 Nonprofits that use their volunteers effectively are more efficient and nimble.
Points of Light calls these effective nonprofits "service enterprises" – organizations that leverage volunteers across all leadership levels, in all departments, to address community needs. Research tells us fewer than 15 percent of nonprofits nationwide operate as service enterprises.
Want to become one of them?
To help more nonprofits become service enterprises, Points of Light, in collaboration with CaliforniaVolunteers, is launching the Service Enterprise Initiative in select locations in 11 states (California, Georgia, Illinois, Indiana, Iowa, Maine, Massachusetts, Michigan, Minnesota, Virginia and Wisconsin). Through a comprehensive, research-backed assessment, training, consulting and certification model, nonprofits are equipped to better engage volunteers.
Rosario Di Prima, programs vice president at Catholic Big Brothers Big Sisters in Los Angeles County, Calif., said the program made staff at her organization realize the different and powerful ways to incorporate volunteers.
As a result of the Service Enterprise program, Catholic Big Brothers Big Sisters has increased its network of junior partners (a diverse group of skills-based volunteers, primarily young professionals) by about 20 percent, and plans to continue expanding the network.
Now, Di Prima said, "volunteers are throughout the organization."
Since 2012, seven California volunteer centers piloted this model and have worked with more than 60 organizations. By June 2014 Points of Light will have worked with 12 other leading nonprofits to transform more than 180 nonprofit organizations into certified service enterprises.
Thanks to the leadership of CaliforniaVolunteers and the Corporation for National and Community Service for their investment and support, and thanks to TCC Group, Deloitte and University of Texas Austin for investing in the research, building the assessment tools and providing the data and analysis that built the foundation for this endeavor.
Points of Light and CaliforniaVolunteers are working with the organizations below to expand this work. If your nonprofit is in the same area as one of those linked below, you may contact the relevant organization directly to express interest in participating in the Service Enterprise Initiative. Otherwise, to learn more about the program, please email me, Tricia Thompson, at [email protected].
Share this post