Season of Giving: Growing Businesses, Changing the World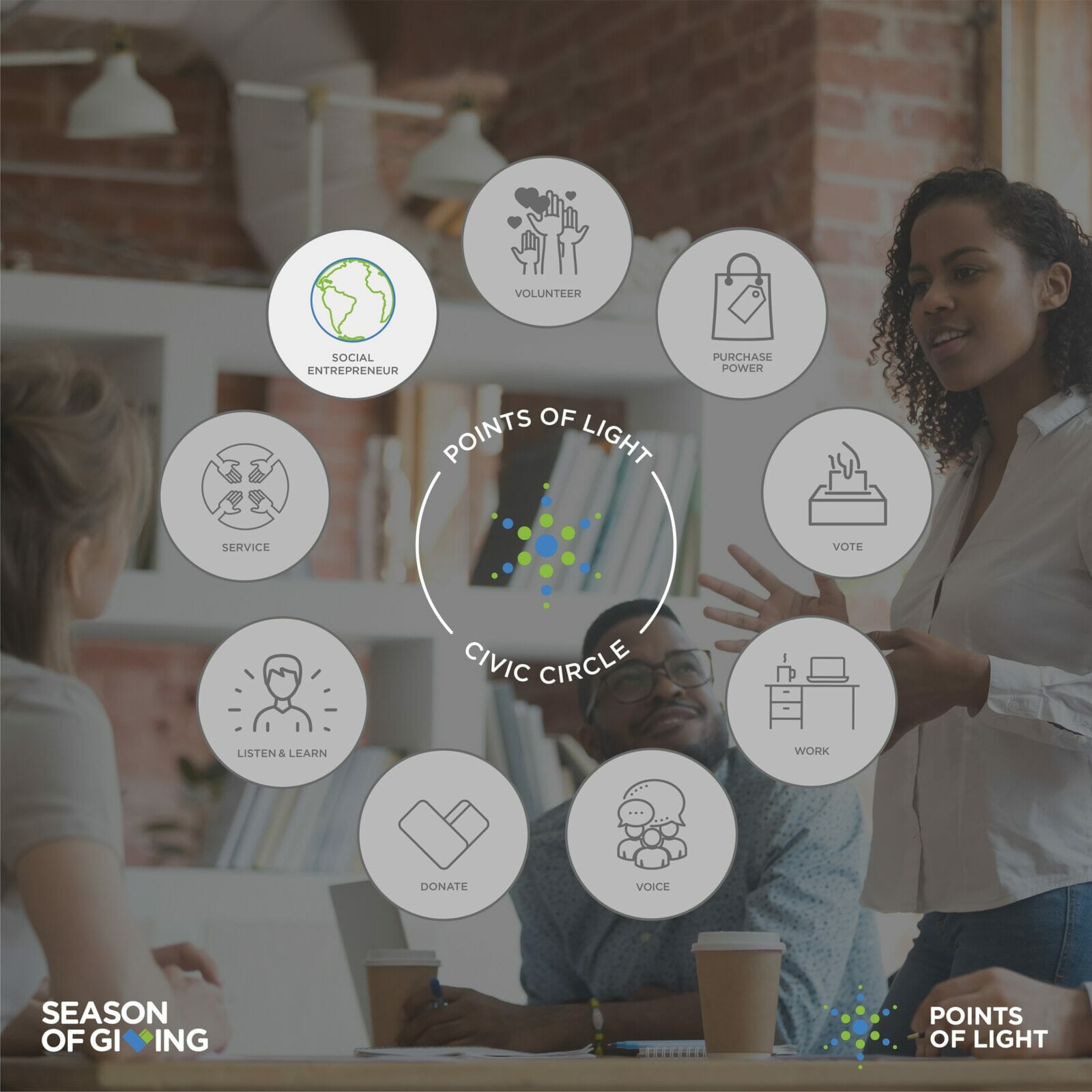 On day 7 of 9 for Points of Light's Season of Giving, we want to explore what it means to be a social entrepreneur, and how you can engage in this area of our Civic Circle. While most private sector businesses measure performance goals of revenue, market share and stock prices, social entrepreneurs focus on goals that generate a positive return for society.
One of our Daily Points of Light Award honorees, Verena Hefti, successfully established her organization, Leaders Plus, to enable parents to grow their leadership skills. You can read more about Verena and how her organization helps individuals advance their career skills through senior leader mentorship, career advancement support and parental support assistance.
Another example of a hugely successful social entrepreneur, special to the Points of Light family, is Lauren Bush Lauren and her organization FEED. FEED is an impact–driven lifestyle brand and social enterprise that was founded in 2007. After seeing the reality of childhood hunger firsthand while traveling with the World Food Programme, Lauren decided that she wanted to find a way for her and her peers to get involved. What started with the design of a single handbag has grown into a catalog of beautifully curated products that have provided over 100 million meals to hungry children around the globe. To learn more about FEED, visit their website.  
 As the dynamic field of social entrepreneurship continues to expand, you can support these innovators by: 
Being an advocate and s

haring their efforts with your friends and family. Not everyone knows th

is

 type of organization and business model exists. 

 

Supporting social entrepreneurs and their businesses 

by purchasing their products and services. 

 

Becoming a social 

entrepreneur

 yourself and expanding the field even further. Today, social entrepreneurs exist in almost every sector from clothing and retail to system design.  

 
At Points of Light, we know that doing good comes in many forms, and we are excited about uplifting the stories of social entrepreneurs and shining a light on their impactful work. Check back in with us tomorrow when we share more ways that empower you to do good.  
Share this post