I Help Struggling Vets, Because I've Been There
This post is by Crystal Crutcher of Los Angeles, a member of the Veteran Leader Corps, an AmeriCorps program run by Points of Light with support from Exelis. To learn more about Points of Light's military programs, visit www.pointsoflight.org/veterans.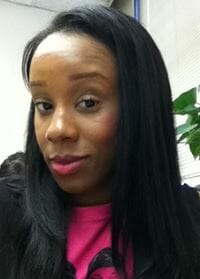 I've thought a lot about what it means to live in poverty.
In 2001, when I was 18, I joined the Navy. I knew I wanted to go to college, and that the Navy would help me get there. I had never been out of the country. During Operation Iraqi Freedom, the Navy showed me the world.
When I left the Navy in 2005, I struggled to build a life for myself and, eventually, my two young daughters. I hit a point in my life where I was on the edge of my seat – a single mom trying to figure out how I was going to keep my life stable. I found myself going to the local food bank to keep food on the table, not knowing whether I was going to come home to my utilities being turned off – all while trying to maintain the welfare of my family, trying to keep a level head and trying to keep good grades in school.
I thought about everything that could go wrong, even though I knew that everything was going to be all right. I thought about the chances of my life spiraling into what I thought poverty was. With my military background and as a veteran, I would have never thought that finding a job would be so challenging or that I would be at a point in my life where I felt that I had nowhere to turn.
I came to Military Women in Need for help with my utility bills. The woman who helped me told me of an opportunity to use my experience to help others like me through the Veteran Leader Corps, an AmeriCorps program run by Points of Light with support from Exelis. Veterans put their lives on the line to serve this country and should not be subjected to hunger and homelessness. I knew that I wasn't the only person who needed help, and I wanted to contribute to making a change.
I tell vets who face joblessness and homelessness something I tell myself: "Every day you get up, make sure you do something that's going to help yourself today." In my own life, if I look at the big picture it gets overwhelming. Sometimes you have to go little by little, day by day.
I joined the Veteran Leader Corps, which allows me to prepare vets for re-entering the workforce, because I wanted to help veterans get what they need to be successful in life. It is our duty as citizens to do what we can for the welfare of this country, of ourselves, and each other, so that no one ends up in poverty.
Share this post