On Veterans Day, Three Powerful Stories of Service
This post is by Tracy Hoover, president of Points of Light.
This Veterans Day, I'd like to pay tribute to all veterans by telling you the story of three people – a boy who lost his dad on 9/11, an Army helicopter pilot and West Point graduate, and a Marine coping with PTSD. All three are making a difference through their service to America's returning heroes.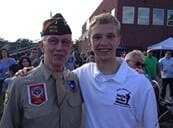 At age 5, Sean Egan lost his father, a New York fire captain, on 9/11. Today he is a senior at Monsignor Farrell High School on Staten Island and founder of Hearing Our Heroes, an organization of 300 high school students who regularly visit and help veterans. They shovel snow in winter, do yard work in the summer, and come up with a surprise every now and then.
This summer, they surprised returning combat veteran Army Private Rasheed Akbar. During his deployment in Kuwait, Rasheed's young daughter was diagnosed with cancer and underwent treatment. Like too many other military families must, the Akbars had to endure great sadness and hardship while separated. When Rasheed's tour of duty was finally complete, Hearing Our Heroes honored his service and his family's sacrifice with a celebration of his homecoming.
Sean is today's Daily Point of Light Award winner. Read more about him here.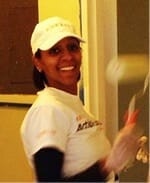 Erica Jeffries served in the Army for five years, flying helicopters to deliver supplies to the troops. Today she's a diversity officer at Exelis, a defense and aerospace company in Reston, Va. Exelis partners with Points of Light and AmeriCorps to support the Community Blueprint and Veteran Leader Corps, national programs that coordinate and improve services for returning veterans and their families.
Erica is one of the Exelis Action Corps leaders who are dedicated to serving veterans and military families. Erica and her co-workers volunteer regularly with Fisher House, a nonprofit providing temporary housing for military families near hospitals where their loved ones are recovering from combat injuries.
"When I was on active duty, my mother was able to stay at Fisher House in Texas while I was in the hospital," says Erica. "It was a wonderful gift and a blessing to our family." Read more about Erica's story here.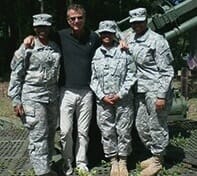 Heath Cobb, a former Marine who served in the Middle East, returned home with what he calls "the scars of war." As he writes, "Rehab and mental institutions became commonplace. My often bizarre behavior was fueled by rage and I found myself in a vicious cycle of hate."
An aunt suggested to Heath that he get involved in the community as a volunteer. The effort turned his life around. "I found the pride I felt when serving others was the same pride I felt by defending others," he writes. "Suddenly, almost overnight, my sense of self was restored, my identity renewed."
Today Heath is an AmeriCorps member and a member of Points of Light's Veteran Leader Corps serving other veterans in Georgia. Read more about him here.
Today let us remember, thank and celebrate veterans. And let us honor their service and sacrifice through our actions. Please volunteer, advocate for and support veterans and their families. Click here to learn more.
Share this post