For This Veteran, a Gift That Hits Home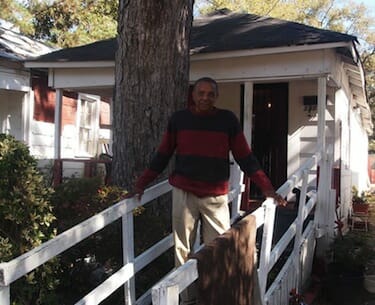 Lindsey Kirksey's childhood home is falling apart – two of the four rooms are literally separating from each other. And while he cherishes the memories of growing up in the cozy, one-story house in Montgomery, Ala., he knows it's time for it to go.
As part of a series of volunteer service projects stemming from Veterans Day, on Nov. 23 volunteers from Exelis Action Corps, the Points of Light affiliate HandsOn River Region and Rebuilding Together Central Alabama will start demolishing the 82-year-old veteran's house. Volunteers will build Kirksey a new house on the footprint of the old one.
"The volunteers I spoke to – they are just like me; they want to help people just like I want to help people," Kirksey says. "I believe what comes around goes around. I have been so blessed and because of that I try to help others. And I think they feel the same."
Kirksey served in the Army Chemical Corps during the Korean War, laying ground cover for troop movement. Since then, he has led life of service. He has taught math in low-income neighborhoods in the Montgomery area; used his teaching skills at Bidwell Training Center, a vocational school in Pittsburgh that reaches out to those who need help turning their lives around; and served as a corrections officer in Selma, Ala.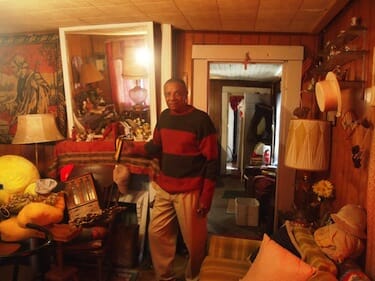 Kirksey's home – known as a "shotgun house," one room wide and four rooms deep – is beyond repair. The volunteer project will require demolishing the nearly 100-year-old structure and erecting a new house based on the original floor plan.
"When we reviewed his application (for assistance), what really stood out was his overwhelming story and the fact that he has dedicated his life to service," says Nell Weisenfeld, volunteer coordinator and program manager at HandsOn River Region. "He also grew up in this home. In fact, when we reviewed the home we even found paperwork from his father when he was helping the church across the street – and that really hit a chord with us."
The volunteers from Exelis Action Corps, the signature volunteer service program for aerospace and defense company Exelis, are stationed at Maxwell Air Force Base in Montgomery. Exelis supports the base through civil engineering, airfield management, communications, recreation and more.
"At Maxwell we employ all kinds of trades, people who are experts in doing this kind of work, and a large percentage of us are also veterans," says Jeffrey Jackson, deputy program manager at Exelis at Maxwell. "We're excited about joining forces with our local community and making life better for one of our own."
For Kirksey, the new house has more than just physical significance: "Where I live, they used to call it the Beverly Hills, but now the neighborhood is going down and people are leaving. People ask me why I want to stay here and I say this is my background, there is history here."
Dee Moody, executive director of Rebuilding Together Central Alabama, says the focus is on rebuilding, not destroying.
"Our purpose is to revitalize neighborhoods and keep communities together," Moody says. "Sometimes people have to choose between home repairs and medicine, or home repairs and food on the table, and our job is to make it easier for them."
Share this post