This is republished from today's For the Win series on the White House blog. The series features the remarkable initiatives that young Americans are advancing to win the future for their communities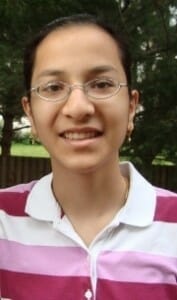 Nimansha Jain is a 2011 winner in Scholastic's "Clifford BE BIG in Your Community Contest." Scholastic Media, a division of Scholastic Inc., the global children's publishing, education and media company, and HandsOn Network, the volunteer activation division of Points of Light and largest volunteer network in the nation, recently announced the call for submissions for the fourth annual contest. BE BIG invites kids of all ages, teachers, parents and community leaders to submit proposals that demonstrate how Clifford's BIG Ideas can make the world a better place. Submitted ideas vie for the chance to win up to $10,000 in community grants from the BE BIG Fund to be used to implement the winning proposals. To coincide with the contest launch, Scholastic Media and HandsOn Network released a study, "It Starts with Character: Inspiring Kids & Teens to Volunteer" which found that kids and teens who have more exposure to character-building skills, such as sharing, being kind and helping others, are more likely to volunteer in their communities, and with greater frequency. For more information about youth making their mark on the world, visit generationOn, the youth activation division of Points of Light.
Many nutritionists report that a single stock of broccoli has more vitamin C than two hundred apples. It's interesting facts like these that led me to lead a new project, called Live Well Lunching, with several active youth in Omaha, Neb., including my brother Mohit Jain. Inspired by the "These Come from Trees" initiative, which uses smart statistics to reduce paper use, I helped start this program which uses point of purchase prompts to help change student's ideas on what it means to live healthy and fulfilling lives. As an active advocate for health and helping youth in Omaha live healthy lives, one of my main focuses and passion has been to be a healthy living advocate in my community. This program shows me, and youth who are involved with service-learning, the true impact that small, cost-effective, things can have on the everyday environment.
The current program has two components called the "Healthy Fact of the Week" and "Easy Choice." Each fact uses smart messaging in order to present impactful statements so that students will make healthier choices. This ranges from portion sizes to direct health benefits. Who knew that just eating a single apple can help build your stamina in the gym? The Health Fact of the Week aims to utilize point of purchase prompts through facts that will engage students to recognize the consequences of the food choices they make and the reality of the healthy benefits provided by healthier alternatives. It's these small phrases and ideas, that take just a quick glance, that leave an impact on students, even in the environment where a student's only goal is to get in and out as quickly as possible.
The Easy Choice part of the program includes changes in operating procedures inside of the lunch line. This includes rearranging the food items, and changes to the names of the food items so that they are more appealing and exciting to youth. Easy Choice seeks to bring about changes in the arrangement of the facilities in which students choose and eat their food. It also focuses on the aesthetic appeal of the food, both in the manner the food is presented and the name that it is given. These few simple changes in the lunchroom environment have shown measurable change in the past.
The program is currently in its trial run at a local high school in Omaha. We hope to see measurable change through the program, and expand the program throughout the school district and to the rest of Omaha. It's truly simple changes, and interesting ideas, that give vitality to youth today and drive their interest. As youth in our community, it is our responsibility to take action for our generation's health. I hope to use this program to catalyze true change in my city of Omaha, towards a goal to reduce obesity in Omaha.
Share this post