Help All Vets Live With Dignity and Hope
In honor of Veterans Day, this week we're highlighting veterans serving their communities. This post is by Kevin C. Miller, a veteran who was recently awarded an AmeriCorps Alums National Leadership Award for his AmeriCorps service.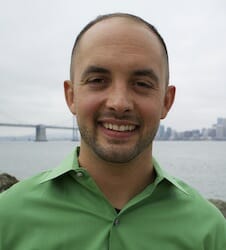 Kevin C. Miller
Transitioning from the Marine Corps in 2006 to the civilian world was far from easy. Even after earning a college degree, I struggled to find meaningful employment, endured a form of homelessness politely known as "couch-surfing," self-medicated with alcohol and eventually got a DUI.
None of this helped my job prospects. Eight years later, I've turned it around. AmeriCorps VISTA and a nonprofit called Swords to Plowshares gave me an opportunity and a home. Today, because I was given the opportunity to serve post military, I'm actively involved in the mission to end veteran homelessness.
Swords to Plowshares brought me on as their AmeriCorps VISTA, put me in my first permanent residence in two years under the Supportive Services for Veteran Families program, and provided legal assistance in my disability claim with the Department of Veterans Affairs (VA).
Coincidentally, Swords to Plowshares was founded by five AmeriCorps VISTA members who were also veterans and one other veteran, who sought to provide resources and a community for their veteran peers.
They applied the capacity-building principles of VISTA and created a comprehensive, care-based model of "vets helping vets." The organization now provides employment services, mental health counseling, legal assistance on upgrading discharge statuses and VA claims, mentorship, and direct assistance to veterans. Every year we provide another 2,100 veterans with an opportunity to rebuild their lives.
Poverty and homelessness disproportionally affect veterans. Across the country, veterans make up less than 7 percent of the general population but 12 percent of the nation's homeless population. Swords to Plowshares houses nearly 500 veterans on any given night. These sobering statistics are what inspire me to advocate for policy and programmatic changes in how we serve our homeless veterans.
In 2009, President Barack Obama established the goal to end veteran homelessness by 2015, making our shared mission a national priority. While we have made great strides, much work still needs to be done: Organizations need to expand the definition of who they will serve and provide more opportunities for Americans to engage in civilian service.
According to the VA, a veteran is defined as a person who served in the active military, naval or air service, and who was discharged or released under conditions other than dishonorable. More than 46,000 organizations serve veterans, but unfortunately most organizations limit which veterans they will serve, especially with regard to discharge status.
By adhering to serving only veterans with honorable discharges, organizations leave approximately 20 percent of homeless veterans without access to any resources. Some, like Swords to Plowshares, step in to fill this gap and support all those who have served in the military regardless of gender, branch of service, length of time served or discharge status.
If we really want to end veteran homeless, then we have to end homelessness for all those who were in the military.
Part of the solution is to ensure that all those who want to help veterans can do so through organizations such as my own Swords to Plowshares. For example, more than 4,000 individuals are currently doing their part to end veteran homelessness powered by AmeriCorps, but plenty more individuals wish to serve as well.
Last year, more than 580,000 individuals applied for just 80,000 AmeriCorps slots, so the desire is there if the programs were funded at their full capacity.
I have personally benefited from the transformative experiences of both military and civilian service. Programs like AmeriCorps, and initiatives such as the Franklin Project at Aspen Institute, encourage Americans to exercise their citizenship through service and are essential to meeting the challenges our veterans face.
As we reflect and honor this week those who have served, in recognition of Veterans Day, let us support all of those who have served – not a select few. One key way to do this is by connecting more Americans and veterans to national civilian service opportunities that enhance or introduce them to the power of civic engagement.
Let us aspire to give all of our veterans the ability to turn their lives around, live with dignity and hope, and continue serving.
This post also ran in The Huffington Post and on the AmeriCorps Alums blog. AmeriCorps Alums is the only national network connecting the nearly 1 million AmeriCorps alumni to the people, ideas and resources that support their commitment to a lifetime of service.
Share this post