Helping Caregivers of Combat Wounded Veterans Face Their Own Battles on the Homefront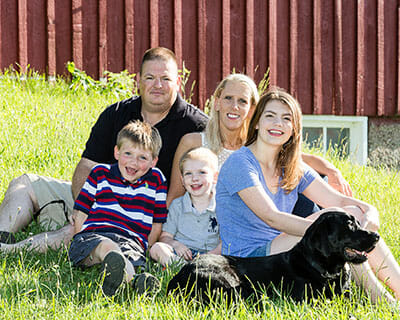 When Joey Caswell's husband, Charlie, was severely wounded in Iraq in June 2005 from a multiple IED blast, the impact on her as a U.S. Army spouse and mother was profound as well. When he returned home on his 30th birthday, he looked healed on the outside but, internally, he battled constant back pain, major depression, and PTSD – a battlefield where Joey joined Charlie, facing multiple medical appointments, all-night care, and countless errands.
That devoted journey as a caregiver of a wounded service member was a lonely, high-stress, career-straining one, and Joey Caswell gathered lessons learned along the way. Now a fellow with the Elizabeth Dole Foundation and president of the new nonprofit, Warriors and Caregivers United in Michigan, Caswell mentors other caregivers of wounded service members.
She knows the drill of caring for a combat wounded veteran. "I lost sleep, I lost friends, I was tired, exhausted and finding myself getting angry," she recalls, "angry that his issues and symptoms seemed to be working their way in to my everyday life as well." Through it all, she stayed inspired by her husband, saying, "He gave so much for this amazing and beautiful country we live in and asked for nothing in return."
Now the mother of three children, "It is my goal to make sure that no one – vets or caregivers alike – ever has to go through what we did, and that people get the knowledge and support we all deserve."
Caswell says support could include assistance with childcare, meals, household chores, and a sympathetic ear. But it also includes a more widespread acknowledgment of PTSD as an injury, the strains it puts on families, and the fact that wounded veterans and their caregivers can be found in every community.
"Behind every wounded vet is a family member or spouse who is the invisible person most of the time keeping that veteran alive," says Caswell. "Offer your friendship, support and love to them. And educate yourself on PTSD and the invisible wounds of war."
Thanks to the Bob Woodruff Foundation, Joey Caswell will share her story and her expertise at the Military Forum "Service in Support of Our Military Caregivers," sharing the stage with Catharine Grimes of the Bristol Myers Squibb Foundation, Leisa Easom of the Rosalynn Carter Institute, Laurel Rodewald of the Elizabeth Dole Foundation, and many more at the 2016 Conference on Volunteering and Service, June 27-29 in Detroit. Find out more about this year's Conference and register now!
Share this post