Her Love for a Bear Led to a Cherished Volunteer Journey
Patty Bailey loved a Bear. Well, a dog named Bear. An adopted flat-coated retriever/Newfoundland mix, which she traveled from New Jersey to Georgia to find, had what some might describe as a higher calling.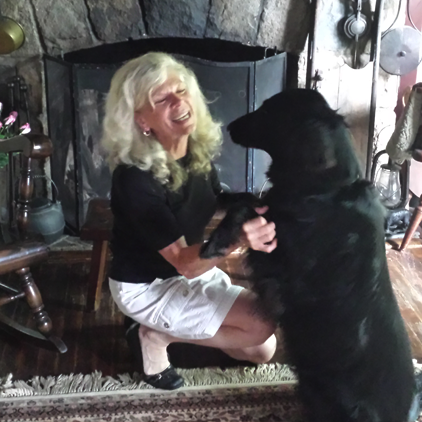 Patty Bailey
"From the moment we picked Bear up he was so full of love and compassion, we just had to share him with others," says Bailey, of Sparta, New Jersey. "What we decided to do was very simple – bring Bear to hospitals and nursing homes to interact with children and seniors."
Through Pass It Along, part of Points of Light's HandsOn Network, Bailey would bring Bear to visit with folks of all ages in need of a little extra joy in their lives. Her favorite part was seeing faces light up and helping seniors remember their own pets from the past. Bear was so loved that he was voted Volunteer of the Month.
Bailey grew up in northern New Jersey and eventually became a schoolteacher. She taught elementary school for 30 years before retiring in 2001. In retirement, she still had lots of energy and wanted to get involved and help her community.
Along with her work for Pass It Along, she also volunteers at a local church soup kitchen and is a bell ringer for the Salvation Army.
For her volunteer work, Bailey was just honored recently as a Cabot Community Celebrity. Points of Light partnered with Cabot Creamery Cooperative this summer to recognize outstanding volunteers as Cabot Community Celebrities.
The farm families who own the cooperative are sending Bailey and other volunteers on a seven-day Caribbean cruise in November, to celebrate the volunteers' contributions to communities across the country.
Bear has passed away but his spirit lives on through Jolly, a rescued flat-coated retriever and certified pet therapy dog that Bailey brings to those in need.
"I wanted to give back, share the love that I have for dogs," Bailey says. "For the people in the nursing home, it's their home, and bringing a smile to their face can help them get through the rough times."
Share this post