Here's a Fun Way to Get Your Kids Excited About the MLK Day of Service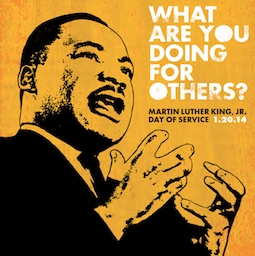 Through art, your kids can share Martin Luther King, Jr.'s message of hope – and win a Samsung tablet in the process.
Scholastic and the Corporation for National and Community Service are running a student art contest inspired by a question Dr. King posed to Americans in 1957: "What are you doing for others?"
To enter, students must create posters that answer that question and inspire people to volunteer during the MLK Day of Service, Jan. 20, and beyond. Students in kindergarten through 12th grade are eligible; entries must be postmarked by Feb. 28. In addition to receiving Samsung tablets, winning students may have their posters displayed in the Martin Luther King, Jr. Memorial bookstore in Washington, D.C.
For more information about the contest and other ways to teach children about Dr. King's legacy, visit www.scholastic.com/mlkday.
And to find out how you can get involved in the MLK Day of Service, go to www.pointsoflight.org/mlk.
Share this post