The Most Important Number of All
This post is by Tracy Hoover, president of Points of Light.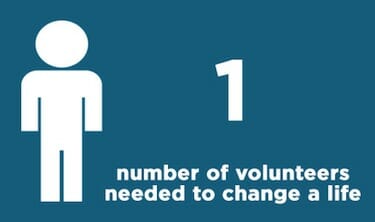 From a food bank in Los Angeles to a homeless shelter in New Jersey, from a community ravaged by tornadoes in Illinois to a village devastated by flooding in the Philippines, Points of Light brings the power of volunteers where it matters most.
Thanks to the generosity of friends and supporters like you, this year Points of Light and its 250 affiliates engaged more than 4 million volunteers, who supported 75,000 nonprofits in 29 countries around the globe. That's more than 250,000 service projects – nearly 21,000 every month. Together, these volunteers contributed 30 million hours of service to addressing critical community problems.
At a time when community needs are so great, and government can't do it all, volunteers are more vital than ever. We see this every day, and I'm sure you do, too. In fact, as you consider the cause that is most important to you, just think about the role that volunteers play in addressing that issue.
As the new year approaches, we hope your New Year's resolutions include using your time, talent and influence to make a difference for the issues you care about. Your service matters – now, more than ever. And, as you consider your year-end giving, we hope you will consider supporting Points of Light. Your gift will help us inspire, equip and mobilize millions of people just like you across the globe.
Take a look at Points of Light By the Numbers, and find out how your gift adds up to the most important number of all.
One.
Share this post