Here's How You Can Get Involved on MLK Day
Millions of Americans will come together on Martin Luther King, Jr., Day – January 19 – in national service and dialogue to honor Dr. King.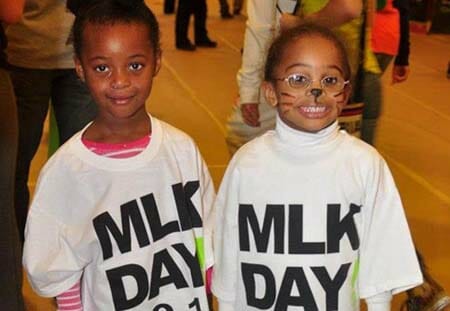 Young volunteers share a happy moment during a 2013 MLK Day service project in Washington, D.C.
The civil rights leader had a dream that one day all people would be guaranteed the inalienable rights of life, liberty and the pursuit of happiness.
We have a unique opportunity to unite in volunteer service and issue a call to action to do what we, as Americans, do best – lend a hand, help our neighbors – and build better communities. Since Dr. King was assassinated, tremendous social progress has been made, but much remains unfinished.
With many communities struggling to access financial and human services, volunteer service can be a powerful force: Neighbors helping neighbors, young helping old, employees offering skills and companies investing in communities where they do business.
Guests become acquainted at an America's Sunday Supper in Atlanta in June 2014.
How will you get involved? Points of Light has tools and resources for a meaningful MLK Day of Service. Here are some ideas.
Host an America's Sunday Supper. Inspired by Dr. King's legacy, America's Sunday Suppers invite people from diverse backgrounds to come together to share a meal, discuss issues that affect their community and highlight the power each one of us has to make a difference.
These family and community suppers unite individuals year-round for dinner and dialogue at restaurants, coffee shops, community centers, faith-based organizations and homes across the country. (If you register your America's Sunday Supper by January 13, you will be entered in a drawing for a $25 Target GiftCard.) Check out Sunday Supper recipes from celebrity chefs, conversation topics, film resources and step-by-step directions in our cooking and conversations guide.
Join conversations online:
Join Points of Light and the Family Dinner Project for a Twitter chat (search and use #familydinnerforward) Tuesday, January 13, noon – 1 p.m. Eastern to learn easy ways to spark civic dialogue and engage in acts of service – at the dinner table and beyond.
Tune in to HuffPost Live on Thursday, January 15, from 12:30 -12:50 p.m. Eastern for an America's Sunday Supper conversation with Tracy Hoover, president of Points of Light, and a celebrity guest.
Refer to our toolkit for sample social media posts and easy ways you can participate online.
Volunteer on MLK Day. You can find projects in your community here.
How do you plan to honor Dr. King? Tell us on Facebook or Twitter using #MLKDay2015, or send us an email at [email protected].
Share this post