Tending to the Visible and Invisible Wounds of War
For our troops, returning home after long tours of duty abroad doesn't always mean their fight is over. The Theater of War: Soldiers & Citizens Tour addresses one of the most difficult journeys our service members face – reintegration back into their communities after experiencing the trauma of war.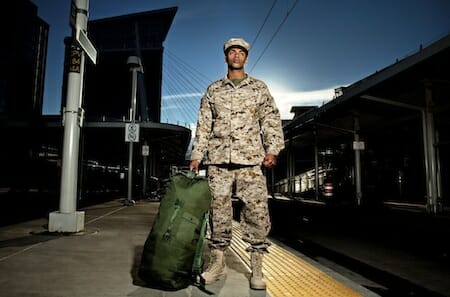 To engage communities in meaningful discussions about the visible and invisible wounds of war, the tour presents dramatic readings of Sophocles' "Ajax," an ancient Greek tragedy about the suicide of a great warrior.
A number of film and television actors have performed on the tour so far, including David Strathairn ("The Bourne Ultimatum," "Good Night, and Good Luck" and "Lincoln") and Erica Newhouse ("Law & Order," "The Good Wife," Blue Bloods").
After each reading, a panel of military service members and civilians leads a town-hall-style discussion in which audience members are encouraged to participate.
The discussion is intended to mobilize citizens and resources to help ease the reintegration process, while fostering understanding and compassion toward service members, veterans and their families.
With support from the Bristol-Myers Squibb Foundation, Points of Light partnered with Outside the Wire, Massachusetts General Hospital Academy and the National Council for Behavioral Health to present this compelling production across the country.
The events are free but spaces fill up quickly. Check out the tour's Facebook page for upcoming performances and how to get tickets. Upcoming dates include:
January 16 – Charleston, WV
April 16 – Anchorage, AK
May 15-17 – St. Paul/ Duluth, MN
Sept. 9 – Bismark, ND
Sept. 15-16 – Columbus, OH
Nov. 7 or 9 – Emporia, KS
For more about Points of Light's programs that serve veterans, please visit www.pointsoflight.org/veterans.
Share this post