Let the Music Move You on MLK Day
How are you getting involved on MLK Day? Tell us on Facebook or Twitter by using #MLKDay2015, or send us an email at [email protected]. If you're musically inclined, see below how you can get involved with MusicianCorps.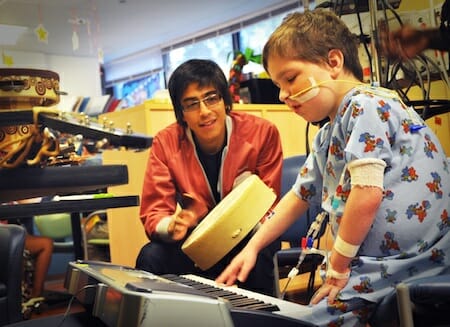 Music-making activities at 16 children's hospitals are scheduled for #musicMLK. (MusicianCorps file photo)
As part of a national day of service honoring the life of Dr. Martin Luther King, Jr., musicians in 50 cities will volunteer their talents by leading music-making events at children's and veterans' hospitals, shelters for women and the homeless, and other community settings during the MLK holiday weekend, Jan. 17 – 19.
The effort, dubbed #musicMLK, is an program of MusicianCorps, a social enterprise headquartered in San Francisco that promotes music for public benefit.
"It's incredible knowing that through our efforts, people across the country will be connecting and making music together," says Shela Jeong, MusicianCorps program manager. "We're inspired that so many musicians have volunteered their time to be part of this."
From Louisville to Los Angeles, Boston to Baton Rouge, here are a few #musicMLK plans across the country:
In Minneapolis, musician, cancer survivor and local radio personality Chantel Sings will visit Ascension Place, a transitional shelter for single women, to share her story and lift spirits through song.
In St. Petersburg, Fla., musician Jay Wilson and his band The Real Clash will lead a sing-along with children and families at All Children's Hospital. Having never volunteered before, Wilson is excited to give back to the hospital where his own son was once treated.
In Nashville, Tenn., husband-and-wife country duo Westwend will share harmonies for veterans at the Tennessee Valley VA Medical Center. "These men and women are near and dear to our heart," says Westwend's Wendy Maness. "Being able to give a little of our time back to these veterans will never add up to what they have done for us, but hopefully we'll be able to bring a smile to their faces."
"Music is a universal experience – whether we make it, hear it, or dance to it," says John Guzzi, a student at Boston College and president of the school's Music Guild, one of many groups participating in #musicMLK by leading music service events in their communities. "#musicMLK represents this power of music and its ability to connect musician-volunteers to somebody in need of an emotional connection."
To learn more about #musicMLK, visit www.createservice.org.
Share this post