3 Steps Toward a Better Future
This post is by Mona Mowafi, who served as an AmeriCorps health educator with the Latin American Youth Center in Washington D.C., and is now president of RISE Egypt.
Think Big. Dig Deep. Make Change.
This motto defines our outlook at RISE Egypt, an organization that I co-founded and lead that connects Egyptian social entrepreneurs to a global ecosystem of support to enable, catalyze and scale development in Egypt.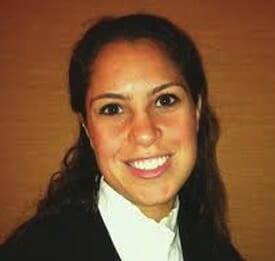 Mona Mowafi
It defines how we envision a more expansive tomorrow and work toward it. As I look back on the past 15 years since I graduated college and served in AmeriCorps, I realize that it has also served as an inner mantra for many years.
Think big. Many of us stumble upon the world of social entrepreneurship, rarely having planned for it. Indeed, if you asked me if I were a social entrepreneur ten years ago, I probably would have shook my head in wonder at the inquiry. I've come to believe that social entrepreneurship is less a "field," and more a title to characterize a group of dreamers and relentless doers across a variety sectors.
The titles don't matter – if you find yourself a person who thinks big about the possibilities for systemic and sustainable change and feels the passion and urge to pursue those big ideas relentlessly, go for it. Join the amazing group of change makers doing exactly that in the world. Your life will be more enriched for it.
One of the biggest pieces of advice I can give to this end is to give yourself space to think creatively and openly about how to solve the world's challenges. Once you've approached a goal, have another on the horizon.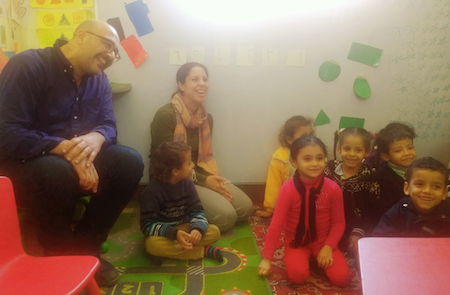 Mona Mowafi, center, visits an innovative early education social enterprise in an underserved area on the outskirts of Cairo.
Surround yourself with other action-oriented dreamers. Collaborate, cross-pollinate, inspire and support one another. Turn off social media for a minute and form meaningful relationships with real life human beings as well. It will pay off magically.
Dig deep. Enacting a better tomorrow requires not just a dream, but also the character, deep-seated values and grit to feed the persistence required to meet the enormous challenges before us.
This will take investments at a very intimate level. Know your personal weaknesses and tackle those as seriously as you would any social problem. When I graduated university, it was a job boom.
More important than money at that stage in my life, though, I believed I needed to connect with real people in communities to understand their everyday lives, and I needed to test my patience and personal endurance to see if I would be able to work in development for the long term.
I was focused less on the financial return, more on the ability for life experience to test my assumptions, challenge my will, and help me define and deepen a set of values that would stick with me over time. It's what led me to do AmeriCorps.
Since then, I have dotted my career with regular opportunities for experiential learning which have paid off enormously in keeping me grounded even when addressing challenges through channels that can feel distancing, such as policy and research.
In light of what I know it has done for me until now, my biggest piece of advice to anyone interested in the world of social entrepreneurship is to make sure you invest as much in yourself as you do in your cause. You and your cause will be better for it.
Make change. The world is forever moving. The question is: In which direction will it go? Be a part of meaningful, positive change in the world by thinking big, digging deep and passionately pursuing your dreams. You will find yourself surrounded by magnificent people, and you will hopefully be able to make an impact by utilizing your knowledge and skills in pursuit of a better tomorrow. Good luck in all of your endeavors, and remember to always:
Think Big. Dig Deep. Make Change.
This post originally appeared on the AmeriCorps Alums blog.
Share this post