For His Courage to Compromise, President George H. W. Bush Receives Kennedy Library Foundation Honor
President George H. W. Bush today was named a recipient of the 2014 John F. Kennedy Profile in Courage Award for a decision that – though it may have cost him personally – benefitted the greater good.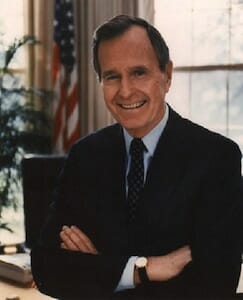 The John F. Kennedy Library Foundation reported that the award committee selected President Bush, Points of Light's founder, "in recognition of the political courage he demonstrated as president when he agreed to a 1990 budget compromise which reversed his 1988 campaign pledge not to raise taxes."
Jack Schlossberg, President Kennedy's grandson, said President Bush "risked his reputation and ultimately his political career by forging an important compromise on the budget in 1990 that moved our country forward, and should not be forgotten."
Schlossberg, who is a member of the Profile in Courage Award committee, will present the award in Boston on May 4. The foundation announced it will also be honoring former Uvalda, Ga., mayor Paul W. Bridges for jeopardizing his career by condemning a controversial immigration law in Georgia.
Do you know someone who showed courage while serving others? Nominate him or her for a Daily Point of Light Award, an honor President Bush created during his presidency.
Share this post