How a Dose of Reality Made Me a Leader
This post by Amy Crownover, marketing and communications director at the nonprofit New American Pathways and a participant in this year's American Express Leadership Academy at Points of Light's Conference on Volunteering and Service.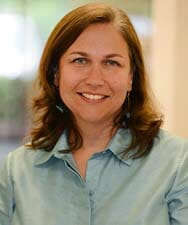 Amy Crownover
I accidentally woke up today a leader.
I suppose that seems about as accurate as saying I became an overnight success in Hollywood. But that's how it feels.
I had a moment this week when a member of my work team confronted me with a challenge – and I thought about it, made a decision and acted. That's it.
It seems simple. And to many leaders, I'm sure it is. But, since I was a kid, I have often been paralyzed by making decisions. My brain wraps around all the possible scenarios – evaluating actions and outcomes – for what I'm sure seems like an eternity of inaction to others. And, often, while I'm playing out this "War Games" scenario in my head, someone else makes the decision.
I always thought of it as a character flaw until something in my recent training broke through the paralysis and helped me understand my style – OK, so I'm a Pragmatist nearly dead center on the spectrum between Conservers and Originators. That actually makes sense!
So, I'm not wishy-washy, I'm just incredibly open-minded! Ha! And A-ha!
In the past, I might have heard that message, said "a-ha" and gone back to work without any real knowledge of what to do differently. I feel so lucky to have been selected for the American Express Leadership Academy that actually provided the individual assessment and resources to help me not only understand my leadership style, but to use it as a strength.
The American Express Leadership Academy is an intensive, two-day leadership development training program, facilitated by the Center for Creative Leadership and sponsored/underwritten by American Express. Points of Light and American Express include the academy as part of Points of Light's Conference on Volunteering and Service each year.
This past June, I joined 23 high-performing, high-potential emerging nonprofit leaders from across the country. We each received a 360-degree feedback tool and personality tools to help us recognize strengths and areas of development around our leadership styles.
The program helped us identify potential career derailment and gain an understanding of how our leadership styles are perceived by others. The biggest gift for me was a confidential, one-on-one feedback and coaching session with a certified Center for Creative Leadership executive coach.
At the beginning of the first session, we were warned that the training might be "transformational." I thought, "Sure. All leadership trainers say that." Now I realize I had to be ready to receive the information – and this experience had all the meat to go with the promise. A full assessment from my boss, peers and direct reports along with the leadership tools and professional coaching to actually do something with that assessment.
A member of my small discussion team during training said, "You know, sometimes you just have to scream and then move on." Yes. Now I think I finally have. I cleansed my leadership palate. I trust in myself to make decisions and ask people to help implement them.
A very successful friend of mine says, "You cannot hit a target that you cannot see." This week, I saw the target and I hit it. What a gift.
If you are interested in applying for the 2015 American Express Leadership Academy, email Stephanie Armelin ([email protected]), who will contact you when the application period opens.
Share this post