How an Earthquake Deepened My Commitment to Volunteer Service
This post is by Annette Sayre, a student at the University of Notre Dame. For seven years, she lived with her family in Japan, where she developed a love of volunteer service as a teen.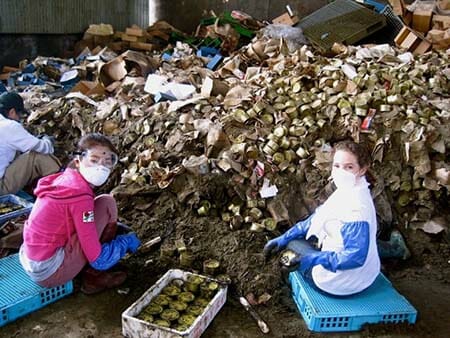 Annette Sayre, right, and another volunteer clean a fish canning warehouse after a tsunami in Japan.
Some volunteer experiences stay with you forever. Mine was in northern Japan, after a 9.0-magnitude earthquake.
March 11th, as the 2011 catastrophe is commonly known in Japan, profoundly affected the nation. Having suffered the massive earthquake, a consequent tsunami, seemingly perpetual aftershocks and a subsequent nuclear explosion in Fukushima, the Japanese people were undoubtedly united in suffering, but also in hope.
Immediately after the disaster struck, volunteers from HandsOn Tokyo – part of Points of Light's HandsOn Network – were traveling north in buses to the devastated Tohoku region to offer their services. In June of that year I decided to go on one of the weekend Tohoku relief trips.
On the first day, our group arrived in the rice fields of Iwanuma to assist in debris cleaning. We cleared flooded homes of their furniture and valuables, discarding ruined technical equipment and soaked mattresses, and walked through flooded rice fields collecting debris that had settled on the grain.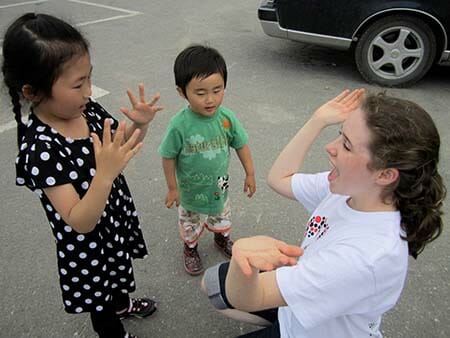 Annette Sayre, right, plays a traditional Japanese hand game called "Arupusu" with local children during a earthquake relief trip with HandsOn Tokyo.
We spent the night in Sendai, the nearest major city, and the following day we drove out to support the local residents of the severely ravaged area, Ishinomaki.
Roofs floating in the middle of the ocean, houses with broken windows jammed into gas stations and fishing boats lying sideways on main roads were a few of the images that struck me as our bus wound down a mountain to the coastal fishing city.
On the same ground that had once washed away thousands of lives, we set up our folding table and coffee maker next to a menu listing the baked goods we would be handing out at our little "cafe."
People from the village formed two long lines to receive their share of fresh fruits and vegetables, which they had come to rely on from the HandsOn Tokyo volunteers' weekly visits.
We then entered a crowded classroom in the refugee building on the highest hill in the area and played hand games and made crafts with children in desperate need of comfort during a traumatic and confusing period of their lives.
On the last day, we cleaned the remains of a fish canning warehouse, separating cans that were punctured and leaking from those that were still saleable.
I often think about my time in Tohoku, as it renewed my commitment to volunteer service. Wherever I call home, service will be a significant part of my life.
There are 250 HandsOn Network volunteer centers around the world. Click here to find one near you, or to search for local volunteer opportunities, visit AllforGood.org.
Share this post