Teaching Children Around the World About Helping Others and the Power of Friendship
Showing that volunteering with friends and family can be lots of fun, parents and kids came together in Singapore last Saturday to do some good, while celebrating International Friendship Day.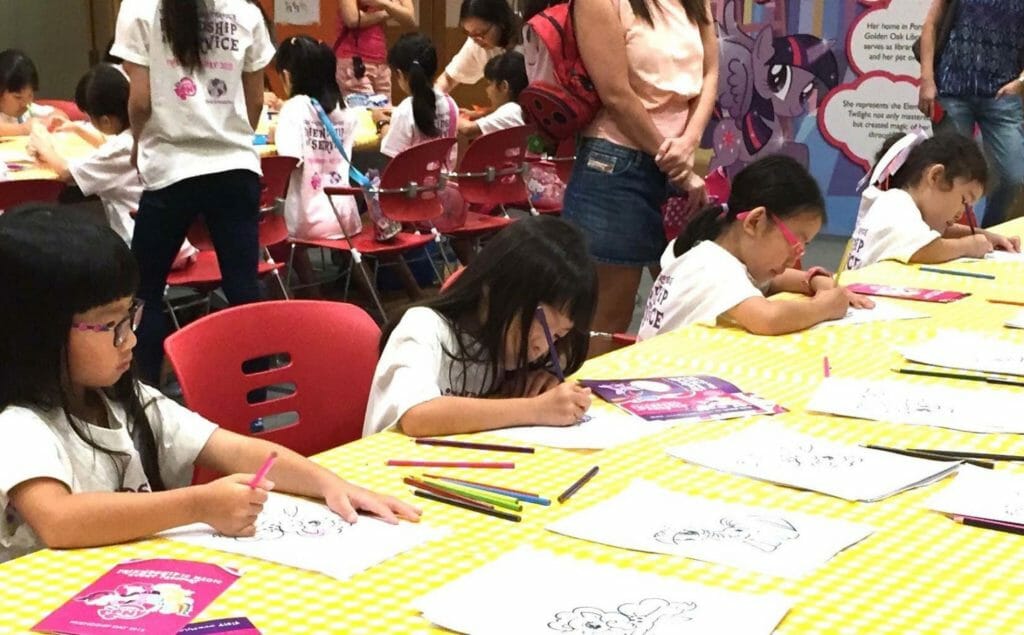 Girls take part in a drawing activity during an International Friendship Day event in Singapore.
To recognize that day, officially July 30, Hasbro and generationOn – the youth division of Points of Light – have launched a global campaign to encourage kids to volunteer in their schools, neighborhoods and communities.
Find out how you can your kids can celebrate by visiting www.generationon.org/friendship.
The campaign uses iconic My Little Pony characters to teach children about helping others and the power of friendship. Four international events are set to engage hundreds of children in volunteer activities inspired by each of the six main My Little Pony characters. The first event was Saturday's Singapore gathering, which will be followed in the coming days by events in New York City, São Paulo and London.
In Singapore, about 150 children and parents came to the Lifelong Learning Institute. In the spirit of My Little Pony, the room was filled with the magic and power of friendship.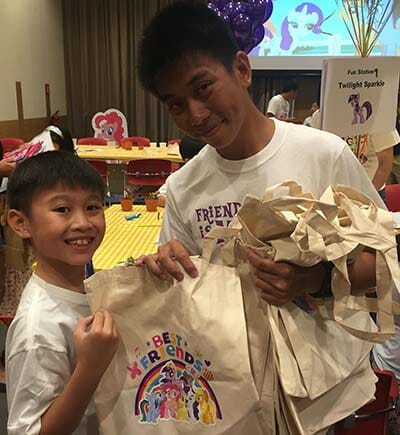 Singapore International Friendship Day volunteers left with smiles and goody bags.
Several volunteer stations were set up in a large room, each representing a My Little Pony character. At a Rainbow Dash station, kids put together "health and happiness kits" for the elderly; each kit included coffee, cookies, a toothbrush, toothpaste and more.
At a Pinkie Pie station, children decorated recycling bags that they could take home and pack with toys to donate to kids in need.
The event concluded with reflection and, in true Singapore style, a makan session (food with friends). Children and parents walked away with smiles on their faces and goody bags that included Play-Doh sculpture reminders to love and care for animals and plants to enhance the environment.
It was a wonderful way to celebrate International Friendship Day!
What are your plans for International Friendship Day? Find ideas and get involved at www.generationon.org/friendship.
Share this post