How to Respond to Tragic Events with Compassionate Parenting
This post is by Kathy Saulitis, senior vice president of external affairs at generationOn, Points of Light's youth service division.
As parents, teachers and caring adults try to calm the fears of children and bring them comfort after the recent events in Paris and around the world, a particularly moving video of a dad explaining the attacks in Paris to his young son has flooded the Internet.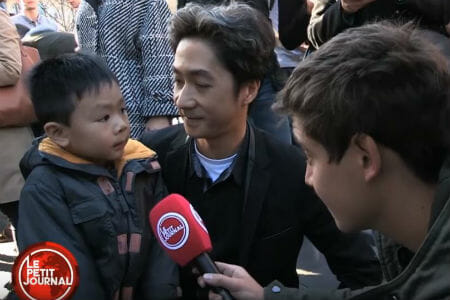 See how this father explains the Paris attacks to his young son in front of a Le Petit Journal reporter. Watch the video here.
French news outlet Le Petit Journal interviewed the unnamed child and asked if he understood what happened in his city and why the shootings happened.
"Yes, because they're really, really mean," the boy says. He then goes on to say, "But there's bad guys, Daddy… they have guns, they can shoot us because they're really, really mean."
The dad remains reassuring and focused on the positive, which are both important in compassionate parenting.
He says, "They might have guns, but we have flowers."
"But flowers don't do anything," the boy responds.
"Of course they do," the father replies. "Look, everyone is putting flowers. It's to fight against the guns." (Watch the video here.)
It is not unusual for kids to feel scared and helpless after tragic incidents such as the recent events in Paris, Beirut and other parts of the world. Visit generationOn's resources page to access a range of articles that offer advice for how parents, teachers and other caring adults can help youth process their thoughts and feelings during these times.
These articles suggest similar ways to help kids deal with tragic events – supporting kids to take action to help others, which can be as simple as a small act of kindness, to volunteering at a soup kitchen, or visiting with the elderly at a nursing home. Dr. Michele Borba, author and renowned parenting expert, gives this advice: "Empower kids with proactive ways to help and model compassion and involvement."
And generationOn has two opportunities for parents, teachers and caring adults to put this advice to action:
Volunteer as a family on Family Volunteer Day, Nov. 21, and show the youth in your life that giving back to others and to their communities is one of the most important things you can do to help make our world a better place. With sponsorship from Disney Friends for Change, we have been able to organize 25 years of families volunteering together. Do our Seeds of Awareness project, specially designed to help kids work through recent events, or find more inspiring ideas at generationOn.org/fvd.
The Joy Maker Challenge, sponsored by Hasbro, Inc., encourages kids, teens and families to help those in need during the holiday season, from Nov. 23 to Dec. 23. Find projects like our Charity Bake Sale for Syrian refugees' children or write kind cards to children in Paris with our Caring Cards project. Take action to make the world a better place at a time of the year when giving back is so important. Share your story and find more ideas at generationOn.org/joymaker.
Share this post