How Volunteering Broke a Veteran's `Vicious Cycle of Hate'
This post is by Heath Cobb of Georgia, a member of the Veteran Leader Corps, an AmeriCorps program run by Points of Light. He explains that volunteering helped ease his transition from military service back to civilian life.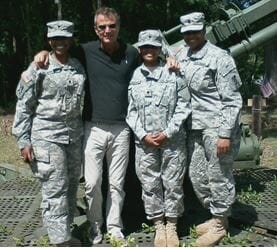 My experiences as a Marine serving in the Middle East do not make me special, nor am I a hero. I do not shed tears for my brothers who gave their sacrifice in the sand. In fact, I consider them fortunate to have died in such an honorable way.
It's not about how long you live; it's about how well you live. This is what so many of our returning military members quickly forget as we try to acclimate back into society. This, I am certain, is the cause of so many of the problems we face after leaving the service.
As a Marine I understood why it was necessary to fight, but more importantly, I discovered why Americans are the "good guys." As Marines we learn what makes us special isn't that we are the finest fighting force in the world. We are special because we are not bullies, we are not savages. We are protectors.
I believe this sense of protector, this profound feeling of inner peace, can be restored to many of our veterans simply by exposing them to the very spiritual act of giving. Volunteering within the community is very similar to serving our great country in the military. Working to help others, for the betterment of man, is almost tangible. It truly honors our mothers and fathers and restores that sense of pride that many of our veterans lose so quickly.
I was fortunate to have a relative who is a champion of peace, Dr. Rose Marie Clarke. She worked with another notable person, Jeremy Foreman whose foundation, Georgia Serves, was responsible for recruiting me to AmeriCorps. Both have souls of an angel and are very active within the community. They are quick to help others and prefer charity work to food.
Aunt Rose witnessed my struggles firsthand. She saw me suffer from the scars of war. Rehab and mental institutions became commonplace. My often bizarre behavior was fueled by rage and I found myself in a vicious cycle of hate. Even the birth of my precious little daughter wasn't enough to bring me out of the hell I was in.
Then, following a suggestion from my aunt, I got involved in the community by volunteering my time. I had inadvertently opened a door that would finally start healing the pain that plagued my heart like a rotting cancer. I didn't know it but I was being exposed to an environment filled with folks who volunteered their time and effort simply because it made the world a better place and I noticed immediately how happy these people were.
I found the pride I felt when serving others was the same pride I felt by defending others. Suddenly, almost overnight, my sense of self was restored, my identity renewed. This, my friends, is the answer that many of our vets are seeking.
Unless we can really communicate the spiritual value of volunteering and charity work to those who may be struggling or even those who simply may need some guidance, we will fail to have any meaningful effect. I am very excited to be a member of AmeriCorps for this reason. The support and resources from this organization are second to none and I am fortunate to be involved with several key partnerships that offer a wealth of knowledge and experience. I look forward to building upon the shared goodwill of AmeriCorps, the American Red Cross, Points of Light and Georgia Serves.
God bless us all!
A longer version of this post originally ran on the ServiceNation website in honor of the 20th anniversary of AmeriCorps. Read it here.
Share this post