How Volunteers Are Helping Refugees – And What You Can Do
In central Rome, a former cultural center has found new life as a temporary home for hundreds of refugees. Without formal leadership or organizational structure, citizens have transformed the Baobab center into a safe haven where refugees can arrive at any hour and find food, shelter and someone who is willing to help.
Refugees gather at Budapest Keleti railway station in Hungary.
Volunteers provide meals, hand out clothes and work a small first aid station, all made possible by donations and cash contributions from the people of Rome – including the Pope, who recently donated medical supplies to the center. As migrants prepare to move north, volunteers provide travel packs containing bottled water, a sandwich, a basic dictionary, a map of Europe and often a train ticket.
"Baobab represents a symbol of hope, of ordinary citizens not closing their eyes in front of need. It is a real example of people realizing their potential to make a difference," says Mauro Cipparone, president of RomAltruista, a member of Points of Light's Global Network.
RomAltruista, inspired by the actions of these "ordinary citizens," has joined the effort, too. In addition to lending a hand at the center, the organization is promoting volunteer opportunities to help fill additional needs.
The Baobab center is not alone. The outpouring of volunteers is a common theme in places where refugee numbers are the highest, where citizens are desperate to help and official direction is lagging or non-responsive. And the refugee crisis has only accelerated in recent months.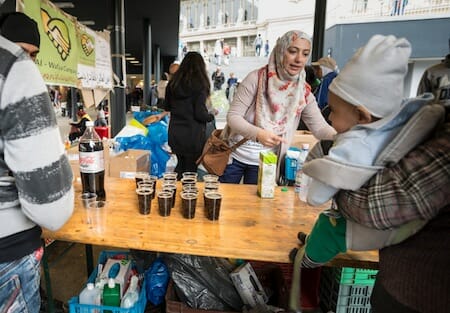 A volunteer serves beverages to refugees near Budapest Keleti train station in Hungary.
Following a spike in refugee populations in 2014, the number of migrants arriving in Europe has already doubled in 2015. The unprecedented movement of people around the world has created the highest number of displaced persons – many fleeing civil war in Syria – since World War II.
More than half of the nearly 400,000 registered refugees are children and youth. Upon arrival, refugees must stay in detention camps or reception centers until they either begin to travel to another country or find a way to stay in the nation in which they arrive.
However, many nations lack the infrastructure to respond, given the current influx of refugees. Volunteers are playing a key role in helping solve this problem.
Like the volunteers at the Baobab center, many Hungarians are helping refugees however they can. Points of Light partner Önkéntes Központ Alapítvány sees citizens donating their time at nearby railway stations to pass out food and water, collect trash and help refugees bridge language barriers.
One group set up a projector to entertain kids with their favorite cartoons, right in the middle of Budapest's central train station. Corporations have also stepped up. Telekom, the country's leading telecommunications company, is providing free wi-fi at rail stations – which not only allows refugees to connect with loved ones, but supports volunteer groups that are organizing via social media.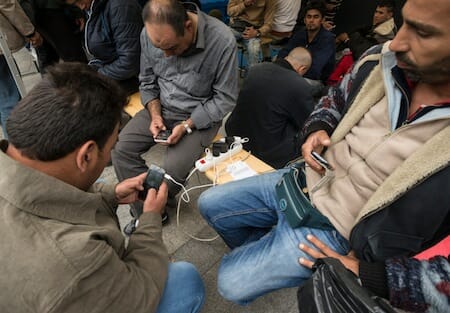 Refugees use donated mobile phones to keep in touch with their families near Budapest Keleti train station in Hungary.
In Greece, Points of Light network member Volunteer4Greece is working with nongovernmental organizations (NGOs) to help coordinate the volunteer response. The group's website has become a virtual corkboard where organizations can post requests for specific volunteering services, as well as a repository for educational materials and tools for NGOs – a precursor to an upcoming seminar on the best practices of volunteer management during times of crisis.
And, while Greek citizens are eager to help, the country's geography makes an effort like the one at the Baobab center more challenging. Most refugees passing through Greece end up on one of its many islands, where volunteers are doing their best to keep up with limited resources.
Costs for volunteer travel and the shipment of donated goods can be prohibitive. Volunteer4Greece is working to connect NGOs with private companies willing to support these efforts.
Farther north, in countries that are more removed from the crisis than their Mediterranean neighbors, volunteer efforts are just beginning to take shape. However, Points of Light network members such as HandsOn London are taking steps to respond. The group will donate warm clothing collected at its annual Wrap Up London coat drive in November.
The outpouring of volunteers across Europe is inspiring, and we will surely see more stories like these emerge as volunteer centers are able to develop sustainable plans to support these efforts. Points of Light provides programmatic support to our global affiliates and encourages our domestic affiliates to host donation drives to support local response entities.
What can you do?
Many organizations have been overwhelmed with donated goods that have created logistical challenges in storage and transportation. Cash donations are the fastest and most efficient way to reach vulnerable populations.
Such donations allow relief organizations to respond to changing needs throughout the region's response and long-term recovery. You can also host a fundraising event to increase your community's collective impact.
Volunteer domestically with the International Rescue Committee to mentor refugee families, develop job skills and maintain a New Roots garden. Consider volunteering with your local HandsOn Network volunteer center, and keep up to date on our response by following the HandsOn Network Facebook page.
For more about how to help, check out this article from The Guardian and this notice from the UK government.
Share this post