Top Six Resources for Nonprofits
From managing volunteers to making your organization more hospitable, these key resources will give you effective strategies for addressing challenges that face nonprofits today. For more resources, check out the searchable resource library managed by Points of Light's HandsOn Network.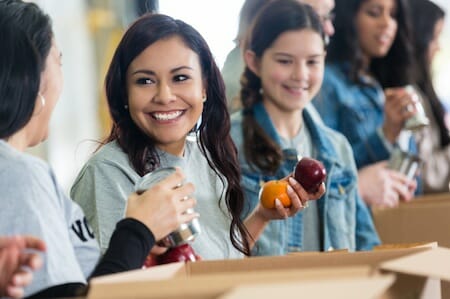 Bringing on Highly Skilled Volunteers
There are likely skilled professionals – specialists in accounting, information technology, human resources and more – in your community ready to volunteer at your nonprofit, but are you ready to receive them? The Skills-Based Service Engagement Tool, which takes about 10 minutes to use, can help your nonprofit determine how prepared it is to engage skills-based volunteers.
Through thought-provoking questions and instant feedback, the tool provides tangible recommendations for nonprofits looking to boost their ability to meet their missions by attracting talented professionals as volunteers.
Managing Volunteers
For many nonprofit organizations, volunteer help is vital. However, recruiting and engaging volunteers in an organized way can be tough. This HandsOn Volunteer Management Guidebook can help.
The guide outlines various strategies for organizing a strong volunteer structure, from recruiting and scheduling volunteers to retaining and recognizing their efforts. Paired with questions to consider and activities to help map out goals, the Volunteer Management Guidebook provides resources you can adapt to meet your local program needs.
Calculating Economic Impact of Volunteers
There are many ways to recognize the value of volunteer work. For nonprofits, this often means calculating the monetary worth of volunteer duties, which varies. To make it easier, Points of Light has created the Economic Impact of Volunteers Calculator.
By providing a complete list of volunteer jobs, the calculator can help give your nonprofit a better idea of your volunteers' economic impact. The calculator lists standard hourly rates and hourly benefits of specific positions. After you input the number of hours, the calculator does the rest of the work.
Nurturing Volunteer Leaders
A solid corps of volunteer leaders can make a big difference in helping your nonprofit achieve its mission. Points of Light's Volunteers as Leaders guidebook is designed to help your organization establish the processes needed to develop a strong volunteer leader program.
This guide outlines various stages of program evolution, from development to volunteer leader recruitment, training and support. Equipped with user-friendly questions, tools for brainstorming and suggestions, Volunteers as Leaders provides pointers and resources you can adjust to meet the needs of your nonprofit.
Assessing Volunteer Leaders
Volunteer and staff feedback on organizational management is your nonprofit's key to growth and success. The Organizational Assessment for Volunteer Leaders, created by Points of Light, provides a thorough questionnaire to help extract important responses about how your project is running, from a volunteer perspective.
This resource includes activities that help staff or the volunteer coordinator assess organization readiness, recruitment, retention and recognition.
Making Hospitality Part of Your Organization's Culture
Hospitality is crucial in any company culture, and the same is true for nonprofit organizations. Created by Hilton Worldwide, Points of Light and Taproot Foundation, the Hospitality + Service curriculum is designed to help you serve your clients better by improving communication and connections with clients, creating warm and welcoming environments and effectively managing challenging situations.
Hospitality + Service's leadership toolkit, Hospitality by Design, shows how to build hospitality into your organizational culture from the ground up, deliver more to your clients, strengthen your team and build your reputation and impact in the community.
Share this post