To Thrive, Your Company Needs a Soul – Find It in Volunteer Service
This month we're celebrating the 10th anniversary of Points of Light's Corporate Service Council, an elite platform for mobilizing, equipping and inspiring high-impact volunteering. Every week leading to our Conference on Volunteering and Service in Houston, Oct. 19-21, we will add a video to our YouTube channel or a post to this blog. Today Stewart Whitney, president of Timberland, a Corporate Service Council member, explains how his company inspires its employees to become "agents of service."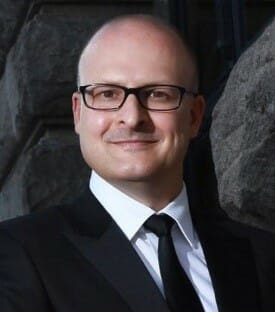 Stewart Whitney
In my 25-plus-year career, one thing has become abundantly clear to me. Companies with an engaged employee base are the companies that tend to thrive. Of course, you need a sound business model and products that consumers demand, but that's not enough.
Your company needs a soul.
Here at Timberland, where I've had the pleasure of working for 15 years, we have a deep heritage focused on environmental and social justice. We're also fortunate to have a truly impassioned and engaged employee community. To better serve this community, we launched the Path of Service program in 1992 to engage employees, business partners and consumers in service to others.
We started by offering employees up to 16 paid hours each year to serve in their communities; a few years later, given the overwhelming response, we increased that number to 40 hours.
We have one simple goal when it comes to service: equip employees with direct experiences to make a difference and hope that, in turn, they become proactive agents of service beyond their years with our organization.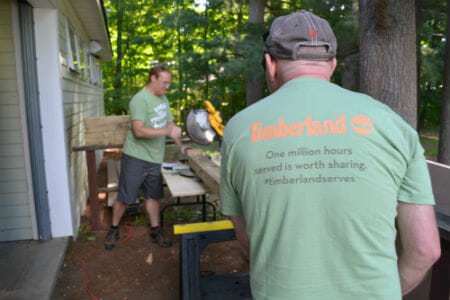 Timberland volunteers help make improvements a New Hampshire park, as part of the company's Serv-a-palooza.
I am proud to say that in 2014, 78 percent of Timberland employees served more than 72,000 hours in some 100 locations in 19 countries, reflecting a 10.3 percent increase in hours served from 2013. This growth contributed to a major milestone: reaching 1 million hours served, largely through our two companywide service days – Earth Day in the spring and Serv-a-palooza in the fall.
Both events were organized by employees worldwide through Timberland's Global Stewards program. Launched 10 years ago, Global Stewards solved a common problem – how to scale corporate social responsibility (CSR) efforts nationally or globally when your CSR team is based in in the U.S. (Ours is in New Hampshire.)
Through this program, a network of passionate employees volunteer, above and beyond their regular job responsibilities, for a two-year term to drive engagement agendas in their locations. Timberland relies upon and supports the Stewards to plan events and initiatives that translate and bring to life CSR programs and messages in their countries' languages and cultural traditions.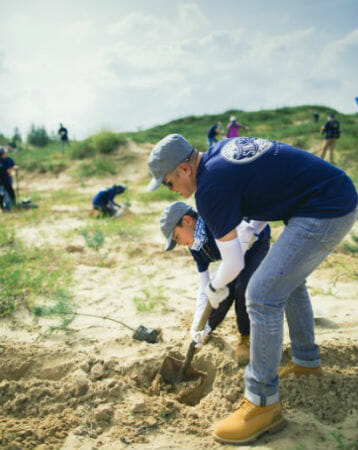 Timberland's reforestation project in China's Horqin Desert has planted enough trees to fill the equivalent of 1,200 football fields.
And they often come up with creative solutions, like Stewards at our factory in the Dominican Republic riding the morning buses with factory workers – who don't have access to email – to get them engaged in service.
For a program to succeed, it's critical to have this level of involvement. We are constantly gathering feedback from employees and consulting our Global Stewards to shape future initiatives and activities. Employees regularly suggest community partners and service locations, volunteer to lead projects and collaborate on ideas for how the business can be more environmentally responsible.
Just recently, we planted our 2 millionth tree in the Horqin Desert in China. This major initiative, today a key piece of Timberland's global commitment to tree planting, started back in 2001 with an idea from a single employee who was concerned about deforestation in her region.
At Timberland, we take good ideas seriously and by listening to and harnessing the passion of our employees around the globe we are able to work toward making a lasting difference.
Through years of research and experience, we have found that service is a key factor in employee job satisfaction, leadership development and also an integral part of drawing great talent to the company. Employees really value the opportunity to become leaders in the workplace, gain new skills and receive visibility in their community while doing important work.
Because of our own experience in employee engagement, we welcome the opportunity to support other businesses and organizations looking to engage in their communities for the greater good. We recently relaunched our Service Toolkit, which provides information and tools for developing and executing meaningful service events for 25 to 1,000-plus volunteers.
In our view, there is no room for competition when it comes to giving back.
Share this post