I Grew Up in a Culture of Service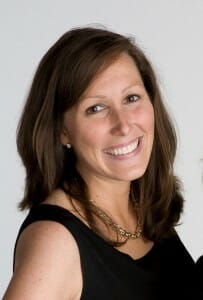 Today's turning point post is written by Vivian Greentree, Ph.D., who is the director of research and policy for Blue Star Families.  In Vivian's spare time, she volunteers as a member of the Board of Directors for the USO of Hampton Roads and Central Virginia. She also enjoys uncovering the nuances of LEGO building from her two sons. She is a Daily Point of Light recipient for March 20, 2012.

I grew up in a very community-oriented household. My earliest memories include going to vote with my uncle, who was a U.S. Congressman. By the third grade, I was the president of "Kids for Ben Jones," the club we started in my neighborhood to raise money to donate to his campaign. He was a strong advocate for educational spending and promised to help us get more books for our school library. I know now our donations, pooled allowance money, probably didn't end up buying us the books that ended up in our library shelves, but his letting us believe we had a place in the process was a lesson in and of itself. And, it got me hooked. There is no doubt that my family's strong influence started me on the path of community involvement that has led me to where I am now.
In college I majored in public relations and political science. While my friends were hunting for Fortune 500 companies to work for, I was looking for a political candidate that I believed in to work with. I found that person in Gov. Roy Barnes. I worked in his press office and was there the day the Georgia Assembly voted to change our state flag to remove the "stars and bars." The Governor had used some major political capital to push the initiative through and I saw firsthand how ordinary people, working together, can effect positive change. While I was working in the Governor's office, another opportunity to serve presented itself to me and I was accepted into Officer Candidate School for the U.S. Navy.
I served in the Navy on both active duty and in the reserves. My husband is still active duty and has deployed four times in our marriage, most recently to Iraq. There are challenges that come with that, especially with regard to our children. However, I'm thankful they are growing up in a culture of service, that they see their dad and other service members giving of themselves for their country. I believe everyone should give back to our society – be it with the military or community service. We owe it to those who came before us and helped us to get where we are in life. We also owe it to the future generations who depend on us to keep adding to our country's foundation. I contribute to several print and online military family outlets as a writer. I enjoy writing about the immense pride and honor I feel as part of a military family, as well as the challenges associated with supporting a military member.
Through my involvement with Blue Star Families, I have also met and worked with some phenomenal military spouses. Our leadership team, small but efficient, is full of women who I am honored to know and who have each taught me life lessons by their examples. Their ability to navigate and push an agenda for military families, while providing support to our team and their own families, has been awe-inspiring. I also work with spouses across the country, virtually, who I have never met in person, but who I trust implicitly and who have provided support to me when I needed it most. Together, we can see we are making a difference; all the while juggling deployed spouses, children, jobs, etc.
Assisting in developing Blue Star Families with a group of seven women into a national organization with more than 35,000 members is something I am very proud of. One specific idea I had, early on in the development of Blue Star Families, was to introduce our program Operation: Appreciation, a program where we collect cards of support for military family members – spouses, parents of service members and children (as well as veterans) from the civilian community and pass them out to our members. There are a lot of programs aimed at sending packages and letters to service members, but not so much their families. I came up with the idea while my own husband was deployed and one of my friends gave my oldest son a card, which just said something like "Good Job!" for being so good while his dad was gone. It's a simple concept but we have been able to grow the program over time and now it is one of our most popular requests from community groups and private sector partners. And, I still love posting individual cards that we get on our Facebook page. To think it grew out of a few of us sorting cards in my living room with small donations for postage (or our paying for it ourselves) to what we have now, with governors, Hollywood celebrities and other high-profile companies participating, is just awesome.
We can all contribute to the national dialogue on what it means to serve by continuing to discuss our personal roles in encouraging the public service ethic and cultivating the valuation of national and community service and civic participation within our own personal spheres of influence. Civic engagement and volunteerism should go beyond voting and complaining about elected officials.  Volunteerism is what sustains this country and allows us to see past our differences to our commonalities as human beings. Through volunteerism we continue to learn, grow and give back to the communities that have given us all so much.
Share this post