More than 20 years ago, under President George H. W. Bush's leadership, the Points of Light movement began, its core mission the advancement of the powerful American ideal of voluntary action.
Today this movement is stronger than ever and is proving to be one of President Bush's greatest legacies.
Given the needs facing our country, the message of service and call to be a "point of light" is a powerful and relevant message.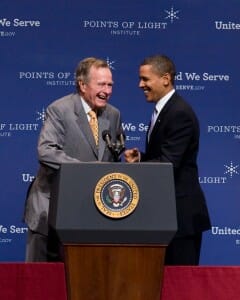 As President Obama said at the Points of Light Institute Presidential Forum last year, "service isn't separate from our national priorities, or secondary to our national priorities…It's how we will meet the challenges of our time."
In that same speech, President Obama went on to talk about President Bush's vision:  "He didn't call for one blinding light shining from Washington — he didn't just call for a few bright lights from the biggest nonprofits; but he called for "a vast galaxy of people and institutions working together to solve problems in their own backyard."
To honor President and Mrs. George H. W. Bush and to celebrate the power of each person to create change, we invite you to help us create a "galaxy" of light. 
We'd like to collect thousands of tributes here that can be shared with President George H. W. Bush, President Obama, and all of our living presidents to demonstrate the power of this idea – that America's spirit of courage, compassion and patriotism is alive and well and demonstrated every day by heroic acts of service large and small.
Please share your own personal tribute to George and Barbara Bush and/or your tribute to someone who has been a "point of light" in your life or your community in the comments section below.
Share this post
---