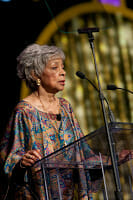 In recent years, we have had an incredible line-up of prestigious speakers, including First Lady Michelle Obama, artist Jon Bon Jovi, actress and activist Ruby Dee, civil rights icons John Lewis and Andrew Young, comedian John Oliver, California Governor Arnold Schwarzenegger and California First Lady Maria Shriver.
We would like to invite you to join this impressive list of speakers at the 2011 National Conference on Volunteering and Service in New Orleans, LA, June 6-8.
Please join us in sharing your experience and expertise by presenting a session during this year's conference. These sessions are a platform for showcasing innovative programs, new ideas, and proven methodologies.
Deadline for Submitting Proposals is midnight EST on November 29, 2010.
Proposal Submission Guidelines
Read the Terms and Conditions. Note: by submitting your proposal, you are committing to these terms and conditions. If you, or the presenter for whom you are submitting, are able to meet these conditions, please continue with the application process.
Read the Review Criteria and use it to guide your proposal.
Review the RFP Framework so you can align your proposal with the conference goals and objectives.
Prepare your proposal in the attached Word version of the RFP.
The online RFP system does not allow you to save your work and come back to it.
The submission requirements for workshops and immersion learning session proposals are different from those for a mini-presentation.
Resources
Review and Notification Information
The Program Selection Committee will evaluate proposals submitted based solely on the information provided, and will make final selections accordingly.
The conference planning team will respond to all submissions by Spring 2011 via e-mail.
Share this post