Innovation Through Disruption – How New Thinking From Startups Is Tackling Our Greatest Challenges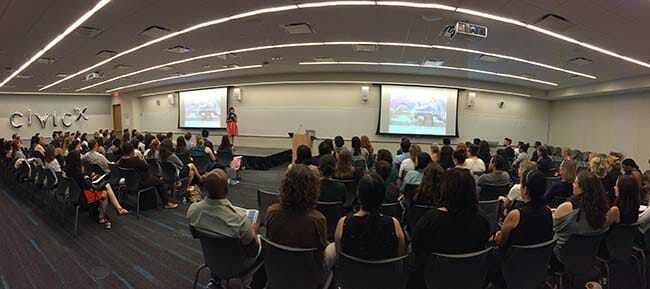 This post is by Ayesha Khanna, founder of the Points of Light Civic Accelerator, now in its third year.
For all the strides women have made in the workplace, consider this:
And while there is a lever that can boost a girl's earning potential by 20 percent later in life, it remains out of reach for many – one additional year of education.
We still have a long way to go for gender equality.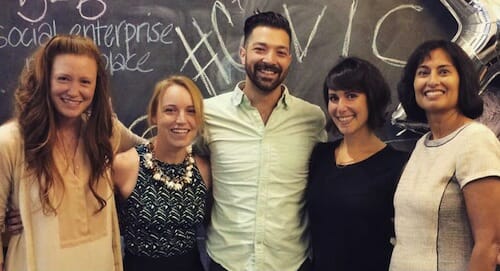 Megan Christenson, Points of Light Civic Accelerator; Jill Carey, Mission Propelle; Ben Fischer, Move This World; Annie Warshaw, Mission Propelle; Ayesha Khanna, Points of Light Civic Accelerator
With that landscape in mind, the Points of Light Civic Accelerator – a 10-week, boot-camp-style program for startups that address critical social problems – adopted a gender lens for our spring 2015 program. All 13 participants work to create greater opportunities for women and girls to succeed in today's economy.
As we celebrated the close of the spring program at the Microsoft Technology Center in New York – the lights of Times Square sparkling through the windows – the Civic Accelerator teams pitched their ideas to about 200 sponsors, mentors, investors and other supporters. It was an inspiring night.
At the end of each Civic Accelerator session, the participants choose two ventures from the group, one nonprofit and one for-profit, to each receive a $50,000 investment. Shortly after the Times Square gathering, those investments went to Chicago-based Mission Propelle, a company that empowers young girls to advocate for themselves and their communities, and Move This World, a New York-based nonprofit that harnesses the power of creative expression to foster safe and supported learning environments.
The commitment of these startups to social issues gets to the heart of why Points of Light created the Civic Accelerator. The program launched in the fall of 2012 with the intention of building new civic solutions: finding new ways people are leveraging technology and using their time, talent, money/purchasing power and voice to drive change.
Whereas technology and changing norms are important, it is the power of people acting collectively that is going to move the needle. It is this intersection of business and purpose where true innovations are happening. Points of Light is excited to be contributing new solutions as we collectively build a purpose-focused economy with our corporate and community partners around the country.
PwC Charitable Foundation and the Starbucks Foundation have provided founding and ongoing support and thought leadership from the very early days. Our corporate partners, including others such as Hilton Worldwide, Blackstone and SAP, have helped 74 civic ventures graduate from our startup boot-camp and investment fund.
The Civic Accelerator provides these and other corporate partners a unique way to engage their employees – and often their leadership – to offer strategic guidance, business planning and more as mentors and advisers. While themselves building skills from the experience, these professionals also offer the ventures corporate assets to support growth and impact.
"Most accelerators we spoke with focused solely on tech," said Annie Warshaw, founder of Mission Propelle (formerly Smarty Pants Yoga), one of the spring 2015 Civic Accelerator participants that received a $50,000 investment. (She's presenting in the photo at top.) "The Civic Accelerator recognizes the power of citizen action and scaling models that include – but are not reliant on – technology alone. We found that really compelling."
We believe this is what makes the Civic Accelerator fundamentally different from other innovation and accelerator programs. We have been intentional in our design to attract diverse founders and incorporate peer learning and evaluation, with a nod to one of our founding partners, Village Capital, which began testing the peer investment approach five years ago.
Most importantly, our biggest differentiator and impact is that we are lifting up and accelerating new civic solutions and 150 civic innovators – from those 74 ventures – who are tackling social issues in new ways that are sustainable and scalable.
We are also targeting issues in depth – such as our recent focus on economic opportunities and access for women and girls – to achieve deeper and more systemic insights and solutions.
We believe driving more citizen action is where the magic lies for long-term change. We look forward to propelling many more ventures focused on critical and pressing social issues that require disruptive and new thinking and working models to get real results.
To learn more about the Points of Light Civic Accelerator, visit civic-x.org.
Share this post