With Her Knitting Needles, This Young Hero Helps Women in Extreme Poverty Earn a Living
The following is an excerpt from a Peoria Journal Star profile of Ellie Zika, a teen recently honored as a Hasbro Community Action Hero by Hasbro and generationOn for helping women in developing countries earn a living. Please see the full story here.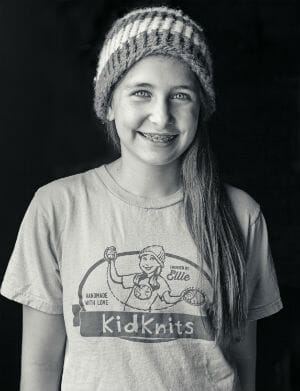 Ellie Zika
Before KidKnits, prospects weren't good for a Rwandan woman named Catherine.
Widowed in the 1994 Rwanda genocide, the young mother suffered from HIV. Though the Rwandan government provided medicine to treat the condition, she couldn't take it without food, and she couldn't afford much food.
"A lot of people there only eat every two to three days. Pay for a full day's work might be a cucumber or a potato," said Ellie Zika, 14, who was 9 years old when she founded KidKnits, a not-for-profit company that sells knitting kits and yarn. She is the daughter of Steve and Kristin Zika of Peoria.
Today, Catherine spins yarn for KidKnits. She makes about $55 a month, an above-average salary for most Rwandans.
Please read the rest of the story on the Peoria Journal Star website.
Share this post