Jon Bon Jovi and Matt Lauer Have This in Common
On Make A Difference Day 2013, Oct. 26, millions of you spread out across your communities to help your neighbors by cleaning parks, feeding the hungry and much more.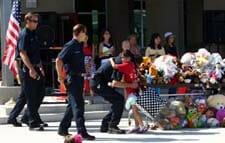 Jessica Carscadden gets a hug for the work she does collecting donated stuffed animals for police and fire departments to give scared kids on emergency calls.
During National Volunteer Week, we honor the 14 Make A Difference honorees who saw needs and found creative ways to fill them. Today USA WEEKEND and Points of Light, with Newman's Own, will host a celebration for the winners in Washington, D.C., joined by singer Jon Bon Jovi, "Today" show hosts Matt Lauer and Savannah Guthrie, and other notable figures.
Below, read about the honorees (and click here for ideas on creating your own Make A Difference Day project for 2014):
Bailey Snow, 16, of Granite Bay, Calif., with eight volunteers, packaged 60 to 70 cans of donated Legos for distribution to local police departments, domestic violence organizations and Boys & Girls Clubs.
High school student Elijah Rodriguez of Leonardo, N.J., arranged a charity walk that raised $7,000 for families still homeless a year after Hurricane Sandy.
Students from Escambia Charter School in Cantonment, Fla., with help from parents and teachers, delivered 300 pounds of canned goods and snacks to a food pantry and the USO in nearby Pensacola, as well as 60 boxes of clothes for three shelters.
Jessica Carscadden, 11, of San Diego rallied about 60 volunteers and oversaw donations of roughly 3,000 stuffed bears for police and firefighters to give to injured or frightened children on emergency calls.
Fourteen-year-old Jessica Collins of Shelbyville, Ky., coordinated 85 volunteers who made blankets, quilts and pillowcases; donated $2,000 for supplies; and delivered 27 beds to kids in need.
Nick Katsoris of Eastchester, N.Y., used his "Loukoumi" children's book series to motivate more than 20,000 kids to take on projects, from making rainbow loom bracelets for patients at St. Jude Children's Research Hospital to collecting canned goods for homeless shelters.
Operation Access, a nonprofit in Sonoma County, Calif., joined with a group of ophthalmologists to save the eyesight of area agricultural workers and day laborers.
Peggy McGee of Green Valley, Ariz., and her fellow Women of Quail Creek club members donated homemade hats and other clothes; bed and kitchen linens; and other items – 3,000 in all – to the Southern Arizona VA Health Care System.
Volunteers from Playworks – an organization that provides kids with opportunities for safe, meaningful play – refurbished picnic tables, worked on landscaping and more for a center that serves kids with disabilities as well as seniors and people with special needs.
The students and staff of the University of Akron in Ohio tackled 60 community projects, from helping public housing residents clean their apartments to weatherproofing a home for veterans.
In the City of Cleveland, Tenn., 800 volunteers worked on dozens of activities ranging from a YMCA job fair that helped 64 people find employment to an effort in which nearly 75 Lee University students assembled backpacks for 10,000 children filled with snacks, toothpaste, shampoo and other basics.
The Volunteer Action Center at the University of Arkansas in Fayetteville, Ark., rallied 1,326 volunteers for projects that ranged from cleaning and stocking the campus food pantry to creating puppets for a local literacy program.
In Weirton, W.Va., the Interact Clubs of Weirton Madonna and Weir high schools helped collect 5,000 pounds of food for local pantries; donate more than 300 pairs of kids' socks, backpacks and other clothing to Weirton Heights Elementary School; and helped a family whose house exploded in a natural-gas accident, killing their teenage daughter.
The volunteers of the Assistance League led 93 communities nationwide in donating 103,036 books to schools, foster programs and shelters.
Share this post