Are You – or Someone You Know – Worthy of This Honor?
Millions of women across the country are making extraordinary transformations in their communities every day. Through the signature Women of Worth program, Points of Light and L'Oréal Paris have partnered to celebrate women making a difference as volunteers.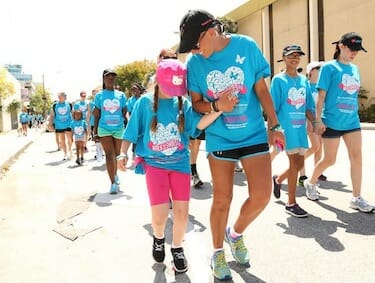 Women of Worth honoree Lauren Book, center, participates in her annual Walk in My Shoes Campaign, which benefits survivors of sexual abuse.
Maybe someone you know will be next. Starting today you can nominate a woman of worth in your own life – or even yourself – through June 25, 2014. L'Oréal Paris donatates $10,000 to each honoree to help support her work. Please visit WomenofWorth.com to nominate and to learn more about the inspiring stories of past honorees. Now in its ninth year, the program has honored 80 extraordinary women.
To kick off the annual call for nominations, L'Oréal Paris is organizing its first Women of Worth Twitter Forum. To further the conversation around self-worth, Points of Light is co-hosting a discussion around the power of giving back today, Wednesday, April 16, at 1 p.m. Eastern. You can follow and participate in the conversation by following @PointsofLight and tweeting during the 1 p.m. hour using the hash tag #WomenofWorth.
In addition to the 1 p.m. discussion, other conversations will take place throughout the day, at 9 a.m., 4 p.m., 8 p.m. and 9 p.m. around other facets of worth. Here is the full schedule (all times Eastern):
9 a.m. – Women of Worth: Celebrating Extraordinary Women
1 p.m. – The Worth Effect: The Power of Giving Back
4 p.m. – Passion and Positivity: How Feeling Your Best Fuels Success
8 p.m. – The Beauty of Worth: Achieving Happiness in Life, Work and Love
9 p.m. – What's Worth It: Charting Your Course & Realizing Your Dreams
We hope you will join us today. And remember to nominate a woman of worth in your life by June 25.
Share this post