Road-Tripping for Some Life-Changing Souvenirs
This post is by Jackie Norris, executive director, and Sarah Boison, marketing manager, of the Points of Light Corporate Institute. It is part three in a seven-part blog CSRWire series exploring the community engagement practices of winning companies in The Civic 50, an initiative launched in 2012 by Points of Light, the National Conference on Citizenship and Bloomberg. The Civic 50 identifies the top 50 community-minded S&P 500 corporations that best use their time, talent and resources to improve the quality of life in the communities where they do business.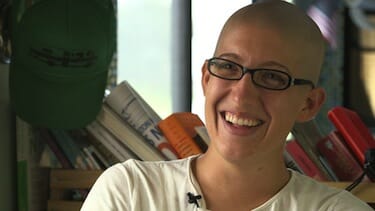 Olivia Zanfardino
After years at various jobs, a stint in the military and volunteer experiences all over the country Olivia Zanfardino, like many young people, often asked herself, "What do I want to do with my life?"
"Throughout my years, my goal has been to live a life I truly believe in and can wake up happy to," says 29-year-old Zanfardino, who is now a business student at University of Phoenix, a subsidiary of Apollo Education Group. "Now that I've settled in one city, I'm still doing that. I recently quit my job to focus on finding a career that I enjoy."
Zanfardino, of Pasadena, Calif., credits Roadtrip Nation for helping her get to this critical point.
Roadtrip Nation, a California-based nonprofit career exploration organization and a series on PBS, believes that students can learn about different career opportunities, lifestyles and philosophies through road trips. The organization captures the stories of young adults as they embark on cross-country self-discovery journeys in a green RV.
The "roadtrippers" stop in various cities to interview professionals in different fields who have turned their passions into careers. By learning from those who have gone before them, the roadtrippers are inspired to take the next steps in their own lives to pursue their ambitions.
A New Way of Learning
Since 2010, the University of Phoenix Foundation, founded by Apollo Education Group, and Roadtrip Nation have worked together to serve nontraditional students with learning experiences that can help link interests and studies to real-world careers. A nontraditional student may be someone who delayed enrollment, attends school part time, works full time, has dependents, did not finish high school or has a GED instead of a high school diploma.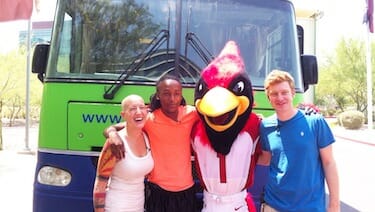 From left, Olivia Zanfardino and "Roadtrip Nation" castmates, Tele'jon Quinn and Ed Whittle pose with the University of Phoenix mascot on campus.
"We started Roadtrip Nation because we didn't feel like there were any resources in school that could truly empower students to explore what was possible for their future," says co-founder Mike Marriner. "That was the genesis of our first road trip, to get outside our comfort zones and connect with leaders to learn how they got to where they are today."
Now it's time for the next step.
The advice leaders share during the road trips will be featured in a curriculum developed by Roadtrip Nation and made available to University of Phoenix students and nearly a million alumni. The goal is to encourage adults to engage in a new way of learning that utilizes self-reflection exercises and real-world exposure through Roadtrip Nation's vast interview archive. With this help, individuals may identify their interests and discover compatible educational and career pathways.
"Roadtrip Nation is all about career exploration and we're all about education to careers, so what better way to have a partnership than to marry our interests and illustrate pathways to careers?" says Pat Gottfried, vice president of corporate social responsibility for Apollo Education Group.
The curriculum will explore themes relevant to adults, such as single parenting, drug addiction and recovery, veteran integration and more. The curriculum will also enable students to share their own "Roadtrips" to success and share the map they used to get there.
"We get to ask leaders … how they got to where they are and what inspires them to be where they are now," says Zanfardino, who appeared on season 11 of the "Roadtrip Nation" PBS series. She hopes the wisdom of leaders will guide her in making decisions that reflect her values and goals.
Roadtrip Nation programs already have a proven track record of improving student behavior and performance. According to a 2012 study conducted by the Educational Policy Improvement Center, Roadtrip Nation students demonstrated marked improvement in self-efficacy and increased their GPAs at twice the rate of non-Roadtrip Nation students over a nine-month period.
Commitment to Career Readiness
Through strategic grant making, scholarships and volunteerism, Apollo Education Group continues to work to expand access to education by supporting nonprofit partners focused on areas such as lifelong education and career readiness. Their commitment to organizations like Roadtrip Nation is one of the reasons why Apollo Education Group was ranked #1 in Strategic Investment from The Civic 50, a ranking of America's most community-minded companies.
The strategic investment dimension evaluates how a company leverages resources from other institutions and provides skills-based or pro bono volunteer support and strategic grant making for maximum benefit to nonprofits. In the past year, for example, Apollo Education Group provided resources to organizations such as the Boys & Girls Clubs of America, the American Red Cross, Clean Tech Open, Junior Achievement, National Park Foundation, Jobs for the Future, America's Promise Alliance, Jobs for America's Graduates and DonorsChoose.org.
Additionally, every employee at Apollo Education Group is provided with two paid days per year that they can use to volunteer at charities of their choice. And the numbers have been spectacular.
In 2013, employees donated more than 67,000 hours of service, valued at $1.2 million; the majority supported education-related causes. Even University of Phoenix students and alumni got involved by identifying companies and individuals across the country for road-trippers to consider.
By bringing the real world into the classroom and helping students match their personal interests to potential careers, the University of Phoenix Foundation and Roadtrip Nation hope to increase the relevance of students' studies and keep young people engaged in their futures.
Making the connection is critical. As Gottfried puts it, "This experience will help provide invaluable tools, resources and inspiration for young adults out there still struggling to understand how to turn their passions and interests into a meaningful career."
Share this post